Dave Rice works on a pasture grazing system to raise cows—and then transform that milk into cheese. His cheese serves restaurants and local food purveyors in Western Pennsylvania.
Story and photos by Darrin Youker
The success of Dave Rice's farm rests on its grass. The 70 cows—a menagerie of milking breeds—spends most of their days living on and eating the lush pastures of Morrison's Cove.
Here, Rice, the owner of Clover Creek Cheese Cellar, walks among his animals, checking on their health and the grass that sustains them.
"The Cove" as the locals call this stretch of Blair County—exemplifies Pennsylvania's Hill and Valley province.
Mountains, running north and south, frame this farming community in a trough-shaped valley. Forests buffer the countryside, but the valley inside is rich in agriculture. And while places like Lancaster County often receive the notoriety for productive farmland—Morrison's Cove stands on its own with a number of thriving dairy farms.
Rice and his dairy are in good company in The Cove—but he's carved out his own niche.
While most dairies operate on a year round cycle of milking and raising calves, Rice— a Farm Bureau member— has transitioned his herd to a seasonal cycle.
His 75-acre farm is broken down into 14 different pastures, with cows rotating through those pastures on a continual basis. And unlike many dairy farms, Rice does not grow his own feed, but instead buys hay from neighboring farms to sustain the herd throughout the winter.
"I much prefer fencing and cows to equipment," he said. "And the farm is steep, which makes it tough to grow row crops."
His cows are bred to bring new calves on in the spring—and to raise his animals as much as possible on the pastures surrounding his farm. And that means throughout the month of February—on an average year—he's not milking cows. Plus, he's also milking cows once a day—unlike the twice daily schedule followed by most dairy farmers.
But Rice is filling a different role than many of his neighbors. The once-daily milking produces a rich milk ideal for making cheese—and that is how the vast majority of his milk is used.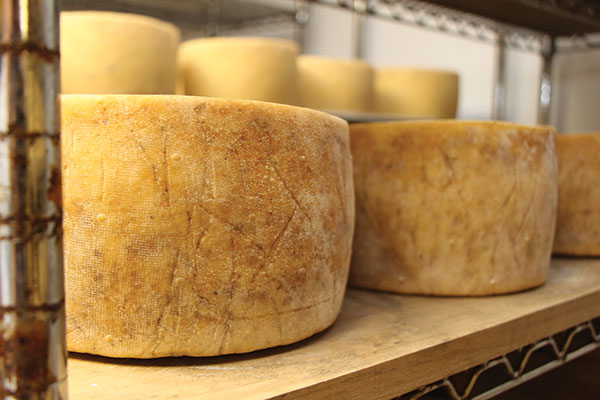 "You get a much more concentrated product. We think it is optimal for cheese making," said Rice, a Farm Bureau member. "We don't get as much milk, but we get nearly as much cheese."
The Rice family moved to Morrison's Cove in 1991 from their native Bucks County—looking for less suburban sprawl and a larger agriculture community. As Dave and Terella Rices' children grew older, they wanted to find a way to keep the kids involved on the farm. That led making additional products with their milk.
Starting in the late 1990s, Dave Rice started attending cheese-making courses to understand the science behind it. A few years later, they made the switch in their milking and grazing philosophy and moved most of their production to cheese.
Now, about 80 percent of their milk is made into more than a dozen types of cheese. The family also sells raw milk—which has not been subject to pasteurization—to local customers.
All of the cheese is raw-milk aged for at least two months.
When the farm made its conversion, the family started going to nearby farmers markets in Huntingdon and State College. That led to relationships with regional food distributors and wineries.
The Rices make several trips to Lancaster, Philadelphia and Pittsburgh throughout the month for distribution. From there, places like Wedge and Wheel sell their cheeses to customers at local markets and restaurants.
Wedge and Wheel, a staple at the East Liberty Farmers Market in Pittsburgh, sells several varieties of Pennsylvania artisan cheese, including Clover Creek.
"They've been really great for us," said Alix Hoylman, who owns Wedge and Wheel. "Clover Creek has become one of our flagships."
Because Clover Creek sells raw-milk cheeses, it gives Hoylman the chance to educate consumers about how the cheese is made.
"Not a lot of people know what raw milk cheese is, and it may be hard for them to find," she said.
The cheddar and Gouda style cheese made by Clover Creek are top sellers at Wedge and Wheel, Hoylman said. Both are good enough to stand on their own on a cheese board, but versatile enough to use in cooking, she said.
"I cook with them all the time," she said. "They work across the board."
Several years ago, Dave Rice was awarded a $2,500 grant from Slow Food Pittsburgh to travel to Argentina and learn from cheese makers there. After coming home, Rice developed a blue cheese, called Pirate Blue, based on the knowledge passed down from producers in Argentina.
"Our blue cheese has gotten a lot better since we went to Argentinan," Rice said.
As Rice looks to the future of his farm, he's trying to strike a balance between the right number of cows and keeping up with the demands of local markets.
Milk, by the nature of supply and demand, sees frequent swings in price. Right now, farmers across the country are dealing with a glut of milk, and not enough market demand.
Because most of Rice's milk is used in cheese, he's able to set his own price—but still has to move the product. That means always looking out for new networking opportunities and relationships to build with marketers.
"If we had not gone in this direction, I don't know if we would have made it through some of the recent low times," Rice said. "We are guaranteed a price, but we have to get it sold."
Clover Creek Cheese
What:
Family farm that produces artisan cheese.
Who:
Dave Rice
Where:
Williamsburg, Blair County
Learn more: