Social Still distills Pennsylvania grains into foodie experience.
Story and photos by Bill Zeiders
Inside a nearly 100-year-old bank in Bethlehem, Adam Flatt is distilling a unique experience.
Behind the heavy door of the historic vault, the only gold one finds now is the liquid kind: oak barrels where bourbon and whiskey age to perfection. What was once a place where immigrant steel workers would gather to send a portion of their wages back to their home countries is now the site of Social Still, a distillery, tasting room and restaurant that Flatt believes is as integral a part of the community as the bank once was.
"What a beautiful old building gives you is it lends you its history," Flatt said. "I'm a big believer that the right home matters. This would be a lot easier with a warehouse, but this is about experience, not making booze."
Most of the distilling equipment is nestled into the basement of the building, but behind the bar, encased behind tall panes of glass, one can see the shining chrome stacks of the still stretching far up towards the ceiling.

"It's the most beautiful equipment," Flatt said. "We thought it needed to be on display. Everybody that comes in here gets to look at this because it's stunning."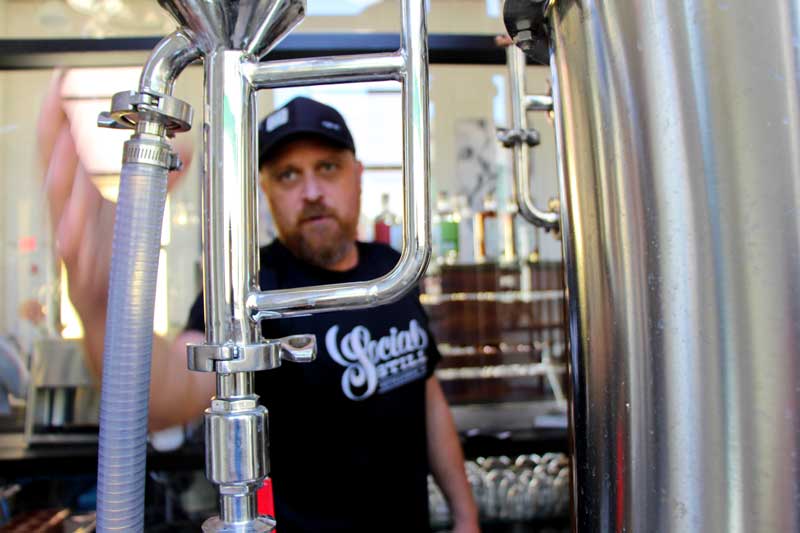 Flatt and his wife Kate, who are co-owners of the business and Farm Bureau members, try to cultivate a high-end food and drink experience while building a connection to the local community.
"That's what a lot of craft businesses are looking for, a connection to the locality," said Flatt. To do that, much of the grain used on the distilling side, corn and rye grains, comes from Pennsylvania farmers.
"We're able to source from Halifax, Pennsylvania about ninety percent of our needs," he said. "We are able to support the P.A. farmer. Not only is it good for our marketing, but it's really because they are the best. Pennsylvania farmers of rye, of corn, it's as good as it gets."
The grains are delivered in 50-pound bags via truck from Small Valley Milling. Flatt says they get about 7,000 pounds a month, and can process about 700 pounds a day. Only the malted barley, which makes up about ten percent of the grains needed for the distilling process, come from Ireland.
"Everything else is from P.A. farmers," Flatt said.
The grains don't become spirits overnight. Once all the ingredients are processed and distilled, most of their products have to age in oak barrels for two years or longer.
Flatt grew up in the wine business, working with his mom in the vineyard from a young age.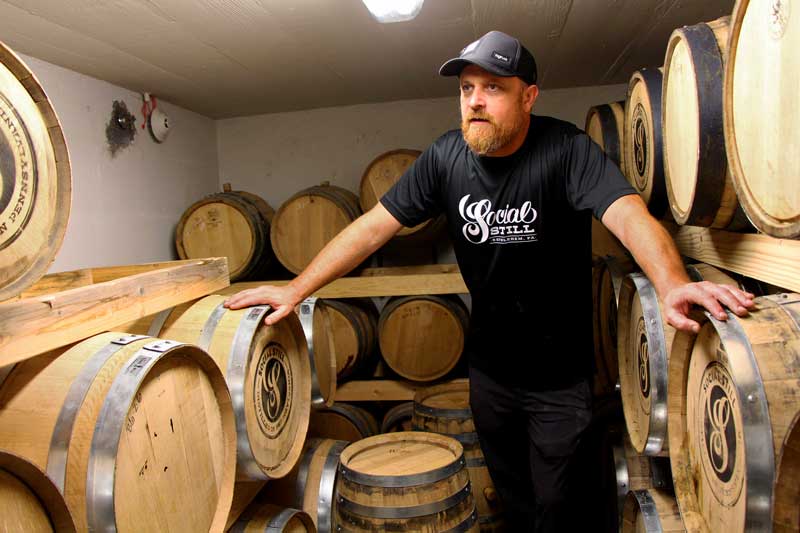 "I knew how to drive a tractor by 8 years old—been farming ever since," he said. "Wake up in the morning, with the dew wet on your shoes, and then by the end of the day you're dusty and hot. There's a sort of romance to that lifestyle."
He still owns Franklin Hill Vineyards, and the on-farm customer experience is something he wanted to bring with him into the distilling world.
"You saw the trends even in the wine business," he said. "The visitor used to be just strictly a retail experience. But then it was about coming and tasting something, being able to see what farming looks like."
A trip to Colorado with friends who were in the brewing business inspired Flatt to take the leap from the winery to small-batch distilling.
"I'd never really heard of small batch liquor at that time," Flatt said.
"That kind of inspired me when I went and visited a place out there and saw the connection to the water, to the grains, to the raw materials. I didn't realize you could make whiskey and be part of your local area."
Following the changing trends in what he calls experience-based retail and sticking to his philosophy of serving the local community, Flatt created Social Still. After three and a half years, Flatt is pleased with what he's been able to accomplish.
"This is the most hyper-local drinking experience and eating experience you can find anywhere in the (Lehigh) valley, if not the East Coast, because I don't know anyone else that's attempting to do what we're doing by being so local-centric," he said.
The hyper-local flavor doesn't stop at the spirits, either. The kitchen is, according to Flatt, a scratch kitchen. "The chef makes everything from scratch here," he said. "Whether it's the pickles or the sauces and everything else, we don't try to take shortcuts."
And the scratch kitchen offers another avenue for local products to make it onto Social Still's menu.
"It allows us to really showcase local products," Flatt said. "If a local purveyor comes in and they have something that week that makes sense for us: Boom! Bring it in. Let's enjoy it together. We'll run a special."
Flatt also tries to incorporate as much of his products into the menu as he can, from his own bourbon in the cheese fondue to whiskey in the pickle brine. He even considers his bartenders "chefs of the bar," he said, because he wants to echo the same sense of seasonality and local fare that drives the food menu on the cocktail menu as well.
"What they do is equally complicated at times: Making our own absinthe and amaro because (due to Pennsylvania law) we're not allowed to serve it if we don't make it," Flatt said. "Alright, we'll make everything."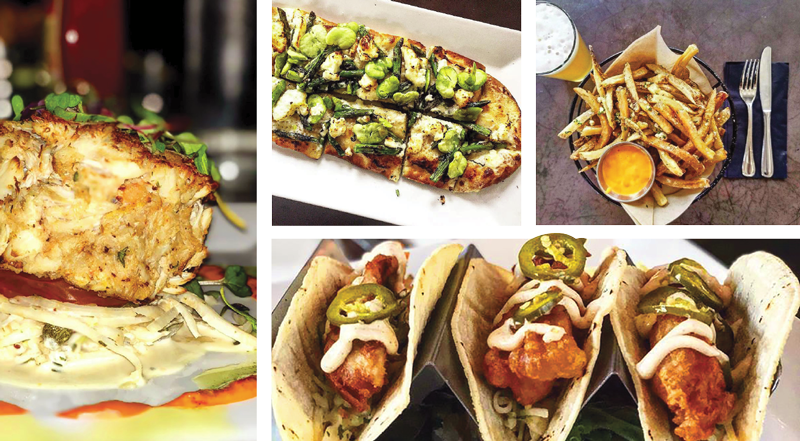 Even though Flatt is going for a high-end dining experience, he also stressed that he doesn't want to alienate customers either. While the menu is certainly eclectic, most items are easily recognizable.
"Our biggest concept with the menu is approachability, we don't want to have a restaurant that regular people don't feel comfortable coming into," he said.
Social Still serves the classics, but they taste a little different because they've "put a little more craft into it," says Flatt.
The connection to the community doesn't end with the local ingredients on the menu or behind the bar. Flatt and his wife are also committed to supporting charitable causes. For every bottle of spirits sold, the business makes a donation to Water.org, a charity committed to providing families in developing countries access to safe water. Social Still also participates in the #wedontsuck campaign, that encourages people to stop using plastic straws. Their own cocktails are now served with compostable stirrers made from bamboo in place of the commonly used plastic straw.
Flatt will also often run drink specials in which proceeds are donated to local organizations. Recently, Social Still created a drink called "The First Responder" and gave the proceeds to the Bethlehem Fire Department.
As Flatt says: "We didn't come into this to create some sort of illusion of what we do, we're actually trying to do it. And that is by living by the standards which you hold yourself to."
Pennsylvania-Grown Whiskeys
Social Still makes a variety of spirits in small batches, including vodka, rum, gin and whiskey and most are made with 90 percent Pennsylvania-grown grains sourced from Small Valley Milling in Halifax. The whiskeys are the star of the show. Here are a few of Social Still's unique varieties:
freakshow

sasquatch

ryewhiskey

deepcut
Freakshow: Social Still's "straight" bourbon, made with 70 percent Pennsylvania corn and 20 percent Pennsylvania rye.
Sasquatch: A premium bourbon infused with Pennsylvania maple syrup.
Rye Whiskey: The name says it all. Made with 90 percent Pennsylvania rye.
Deep Cut: Pennsylvania straight rye whiskey aged in American oak and finished in red wine casks from Franklin Hill Vineyards.
Social Still
What:
Distillery and restaurant
Who:
Adam Flatt
Where:
Bethlehem, Northampton County
Learn more: