Ingredients
¾ pounds ground pork
1 cup sauerkraut
About 36 gyoza wrappers
3 scallions, minced
2 cloves garlic, minced
1 small carrot, grated
1 tablespoon fresh grated ginger
1 egg
2 tablespoons soy sauce
2 teaspoons sesame oil
A dash of ground white pepper
3 tablespoons canola oil
Directions
Squeeze the sauerkraut in cheese cloth or paper towels to remove excess brine. In a mixing bowl, combine pork, sauerkraut, scallions, garlic, carrot and ginger. In a separate bowl, beat the egg and whisk with soy sauce, sesame oil and pepper. Add egg mixture to pork mixture and kneed together with hands.
To make dumplings, add about 1 ½ teaspoons of filling to the center of wrapper. Dip finger in water and gently brush around circumference of wrapper to moisten. Fold wrapper into a half-moon shape. Seal by pinching with thumb and index finger of each hand and joining together to form a pleat. Form five pleats total starting at the center. Gently push each sealed dumpling against flat surface to form a flat bottom.
With all dumplings assembled, heat canola oil over medium-high heat in a large, non-stick sauté pan. Arrange dumplings in a single layer with bottoms touching the pan and cook uncovered for about three minutes, or until bottoms start to lightly brown. Add ½ cup of water to the pan, being careful of splattering oil. Quickly cover, reduce heat to medium and cook until dumplings are cooked through and bottoms are golden brown. Remove cover and continue to cook for about a minute to allow remaining liquid to evaporate. Remove dumplings from pan and serve warm with honey-ginger dipping sauce.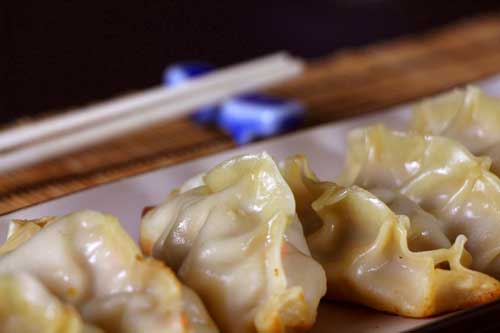 Honey-Ginger Dipping Sauce
Ingredients
½ cup soy sauce
6 tablespoons honey
2 tablespoons rice vinegar
2 teaspoons sesame oil
1 scallion, minced
1 clove garlic, minced
2 teaspoons fresh grated ginger
1/8 teaspoon red pepper flakes
1/8 teaspoon ground white pepper
Directions
Whisk all ingredients together and chill for at least one hour.