Bucks County distillery leads farm-to-bottle revival of classic Keystone State spirit
Story and photos by Bill Zeiders
If you could taste Pennsylvania's past, what would it taste like?
Herman Mihalich, founder of Mountain Laurel Spirits and distiller of Dad's Hat Rye Whiskey, might have a suggestion.
"Just before Prohibition, there were over 160 licensed distilleries making whiskey in Pennsylvania," Mihalich said. And through the 1800s, when Pennsylvania was the nation's leader in whiskey production, most of that whiskey was a particular type: rye.
When many of the German Mennonites came to Pennsylvania in the 1700s, they brought with them their expertise in farming and in making whiskey. The earliest documented whiskey distilling in the state was in 1760. They were growing and distilling rye, a grain much more popular at that time than today. It was what they had, and whiskey was much easier to store and transport than rye grain at the time.
"They brought that knowledge and tradition over," Mihalich said. "And rye was easy to grow."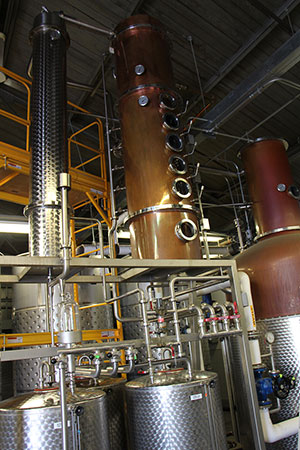 But Prohibition, enacted in 1920, practically wiped out the whiskey business in Pennsylvania, and at the same time almost killed the market for rye whiskey in America. After Prohibition was lifted in 1933, the popularity of rye whiskey declined, and many of the surviving Pennsylvania distilleries had moved to Kentucky.

Then, in 2011, nearly 22 years after the last Pennsylvania whiskey distillery closed its doors, Mihalich, along with his business partner John Cooper, opened their doors and started the tradition again. Their distillery, which operates out of a refurbished textile mill in Bristol, Bucks County—was the first to start making rye whiskey in Pennsylvania since 1989.
---
Just 49 miles north of Mihalich's distillery, Nevada Mease grows rye on his family farm, Meadow Brook Farms in Riegelsville, Bucks County. His farm has a
tradition as well; it was originally a William Penn land grant. Mease believes he could trace his lineage back and that the farm has been in his family since the beginning.
"The oldest building is from the 1700s," he said.
Perhaps that building has seen over 300 years of rye harvests. Mease remembers his great-grandfather and great-uncle farming the land, but the farm lay dormant for a generation after his great-uncle passed away
unexpectedly when Nevada was still young.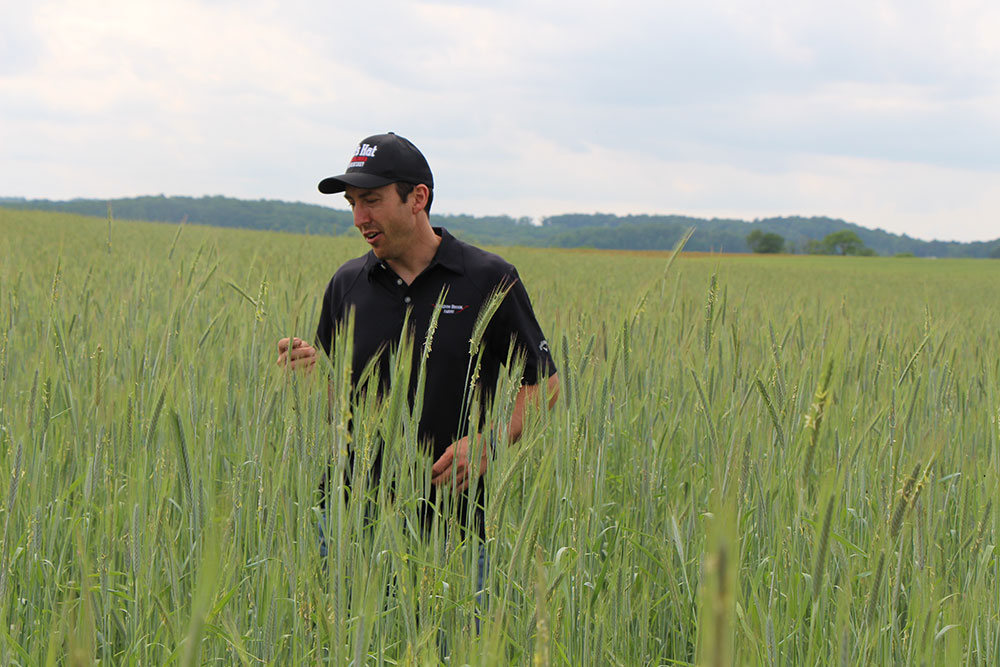 "My dad actually didn't (farm) and so then the farm went idle," Mease, a Farm Bureau member, said. "Then around 2003, my parents were able to buy the farm from the family and I started it all back up again."
Mease got into farming when he was young and he and his sister would borrow their great-grandparents' equipment to make hay for her horse. He also spent a lot of college summers working on a family friend's ranch out in Montana. He wasn't thinking about whiskey when he started farming on his own.
"I just really liked farming and saw an opportunity here with the hay and the horse market, that's primarily what we do," he said.
---
You could say that Mihalich has Pennsylvania rye whiskey in his blood.
"It's the smells I remember as a kid," he said.
Mihalich's grandfather worked in a steel mill in the 1920s, until he had the idea to open a speakeasy in the 1930s, which eventually became the family tavern. He has photos of his mother working behind the bar in the 1950s. Mihalich remembers the time much later when his grandfather came to live with his family, and the aroma of rye whiskey when his father and grandfather would enjoy their spirits.
Mihalich wanted to recapture the flavor and smell of the type of rye whiskey he remembered his father and grandfather enjoying, the kind the first Pennsylvanians had made so long ago.
---
Mease was growing rye the way most farmers do today, as a cover crop to improve soil health and to cut for straw for horse bedding, not for grain. In 2012, Mihalich was referred to him as a possible source of rye grain for his distillery.
"Nevada was involved early on," Mihalich said. "The very first rye we got was from Lancaster County, but very quickly we switched to Nevada. He was clearly making a superior product."
"We were already growing rye for straw." Mease said. "It just meant, okay, we'll combine (harvest) some. It was pretty simple to just integrate that way."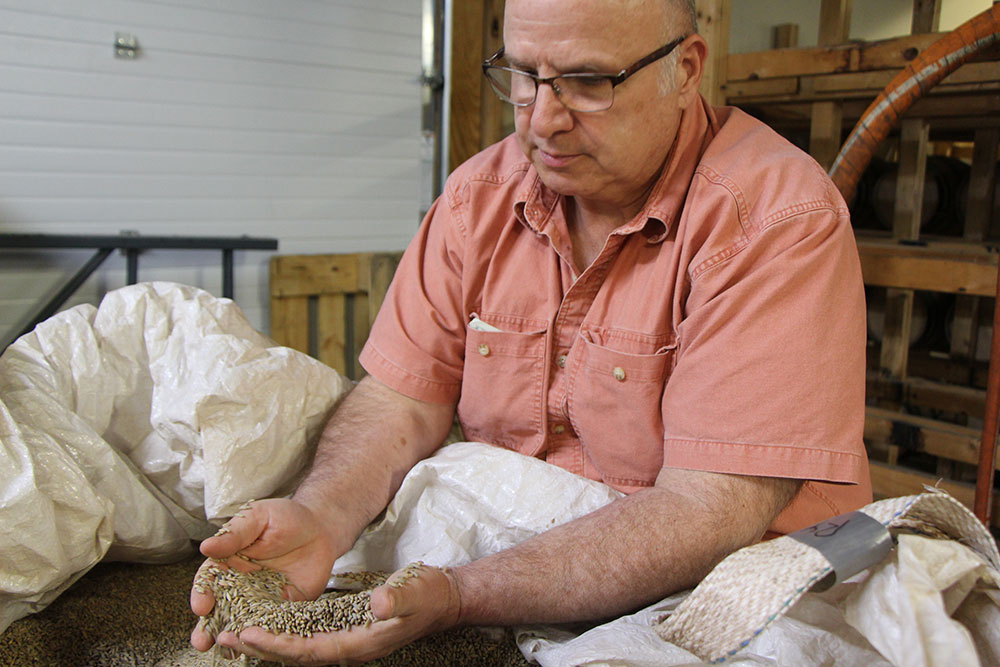 Mihalich believes that a quality local product from local farmers makes all the difference in his whiskey.
"If you spend the time to work with farmers to get
exactly what you want, you can get good stuff," he said.
With his Dad's Hat brand, Mihalich wanted to create authentic Pennsylvania rye whiskey, and he wanted to make it from local rye. He says he's been successful because he took the time and effort to find it. Rye is currently one of the least planted cereal grains by acreage in the U.S.
"There are brands in Kentucky that are buying their rye grain from Germany and Sweden, and that just blows my mind," Mihalich said. "Why would you buy grain from the other side of the world when, if you spent the time
to work with local farmers, you can get what you want?"
Mease delivers the rye grain to the distillery in 2,000-pound seed bags. It's harvested and cleaned right on his farm.
"We bought our own cleaner," Mease said. "I just wanted to provide the best product we could."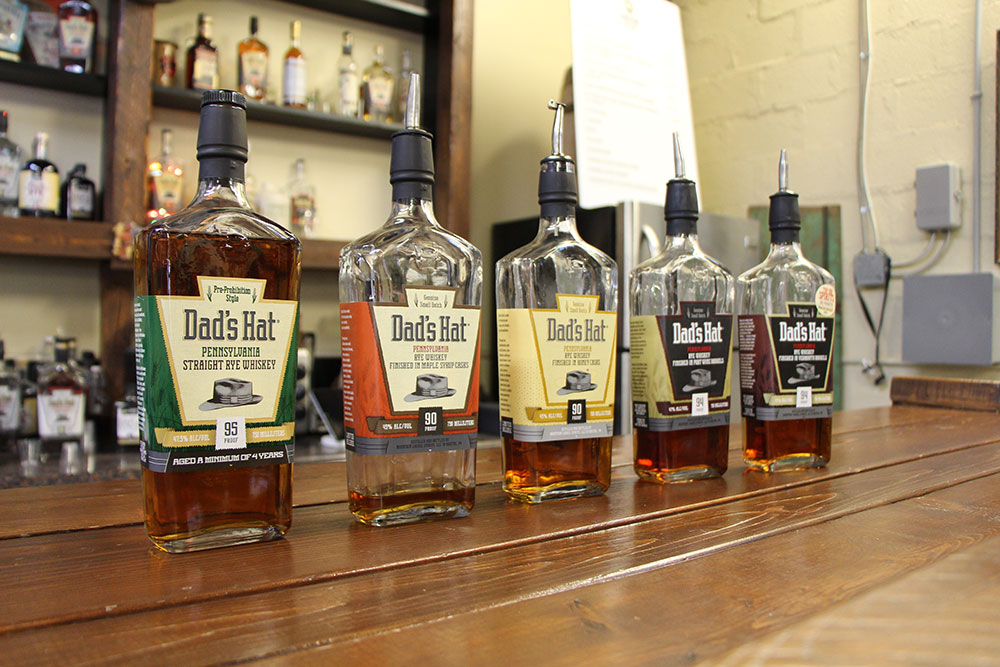 The locally grown and cleaned grain is exactly what Mihalich was looking for to create his line of rye whiskies. Along with their flagship product—Dad's Hat Pennsylvania Rye Whiskey, which is aged for nine months in small barrels—they also offer a Straight Rye Whiskey which is aged a minimum of four years in larger 53-gallon barrels. The product is already getting good reviews in
the industry.

"The small barrel whiskey is nice whiskey. It's good, everyday drinking whiskey," said Mihalich. But the four-year "is the stuff where we're starting to make a name for ourselves."
---
Mihalich, though, is still searching through history to find his next project. He has teamed up with Delaware Valley University to try and revive an heirloom variety of rye called Rosen Rye that was once used in whiskey distilling in Pennsylvania but has since disappeared.
With the help of a DelVal professor, he was able to get a five-gram sample from a USDA seed repository and get the university to start planting it.

"You could find advertising from the 40s and 50s that would advertise 'X-Y-Z Whiskey made with Rosen Rye,'" Mihalich said. "So, we don't have a necessarily scientifically rigorous reason for wanting to do this right now, but if they thought it was good, let's give it a shot."
It will take a few years of tests to get enough seeds from the handful he was able to procure from the seed repository.
"Last year they got 50 pounds, and this year we'll see what the yield is," says Mihalich. "DelVal wants to start growing it there and introduce it back to farms in Bucks County."
That would include Mease's farm. Once he has enough to distill, Mihalich is curious to see what flavors the old variety of rye will create. It could be like tasting Pennsylvania's past.
Mountain Laurel Spirits
What:
Craft distillery producing Dad's Hat Pennsylvania Rye Whiskey
Who:
Herman Mihalich and John Cooper
Where:
Bristol, Bucks County
Learn more:
---
What is Pennsylvania Rye Whiskey?
Every type of whiskey has a mash bill—a mix of grains that makes up the whiskey's recipe. Unlike the more popular bourbon, which must be at least 51 percent corn, American rye whiskey is made with at least 51 percent rye grain. The historic Pennsylvania rye whiskey has a higher percentage of rye and no corn in its mash bill. Sometimes called Monongahela Rye or "Old Monongahela," this type of whiskey is generally 80 percent rye grain, and some blend of malted barley and/or malted rye to make up the mash. The origins of this type of whiskey can be traced to the area around Pittsburgh along the Monongahela and Youghiogheny River. Dad's Hat uses a blend that is 80 percent rye grain, 5 percent rye malt, and 15 percent barley malt.