Bedford County brewers tell a story through beer.
Story by Liam Migdail, photos by Liam Migdail and Darrin Youker
Every batch of beer that David and Mary Heller craft at Olde Bedford Brewing Company tells a story.
Sometimes it's a story about Bedford County, a region steeped in history going back to the nation's formative years. Sometimes it's about Hideaway Ranch, the small, more-than-a-century-old farm in the mountains north of Bedford that David Heller's parents bought in 1970s to raise beef cattle and horses. Sometimes it's about the area's rich agricultural heritage and the grains and crops that helped shape the region.
But most of the time, there are elements of all three plot lines that intertwine in the hoppy brew.
"Everything we do has a little history lesson on the side," David Heller said.
At the moment, he's particularly excited about one such "little history lesson" he cooked up in collaboration with nearby Dancing Star Farms, Wigle Whiskey Distillery in Pittsburgh, craft malter CNC Malting Company out of Butler County and Bedford Springs Resort, a 214-year-old resort hotel outside of Bedford that's on the National Register of Historic Places.
Brewed exclusively for the resort, the Bedford Butcher Brew incorporates grain grown by Dancing Star and malted by CNC, Heller's homegrown hops and a four-month stay in one of Wigle's bourbon barrels to produce a uniquely western Pennsylvania taste. The name comes from the hefty dose of Dancing Star's bloody butcher corn, an heirloom variety that was once an important crop for farms throughout Appalachia, included in the grain bill. There's also some barley, the grain most commonly used in beer, and—one of the Hellers' favorites and another icon of western Pennsylvania's agricultural heritage—some rye.
"We like to put rye in a lot of stuff that we do," Heller said.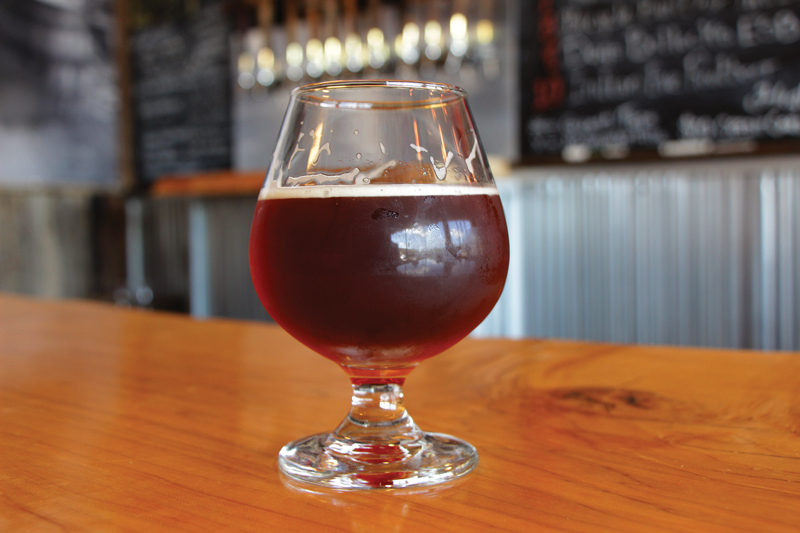 The undertaking is perfect example of the mission the Hellers have set out to accomplish at their now 2½-year-old brewery: Craft brews that come with a sense of community ownership and connect the drinker to the region's flavors and past. That and—of course— make good beer.
"It's not about the craze," Heller said, as he explained his lack of interest in chasing fads like the recent hard seltzer boom. "It's more about the flavor, the taste and the experience. It really is a taste of Pennsylvania. It's a taste of Bedford County. It's a taste of Hideaway Ranch. It's a taste of Dancing Star Farms. It really carries a lot of weight with it."
'Experience Local'
Though natives of Pennsylvania, the Hellers spent years moving all about the country, following David's career in the military and later as an FBI agent. In 2002, they returned home to the farm and bought Hideaway Ranch from David's parents.
David's father was the local school district superintendent but had raised livestock on the farm on the side. The farm was out of the production when David and Mary Heller moved there but the land was rich with all sorts of wild fruits and berries and useful plants. The Hellers began thinking of ways that they could connect with the land's agricultural roots.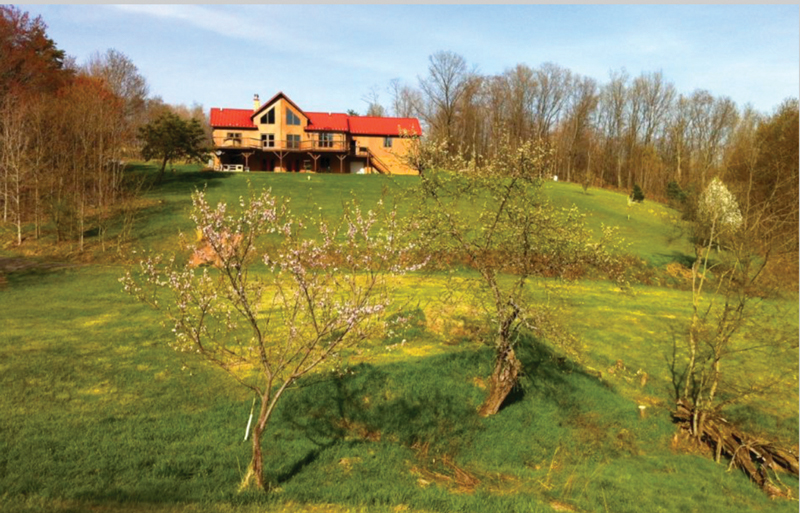 "Bedford didn't have a brewery and we home brewed" David said. "We thought it would be pretty cool to leverage what we do on our farm."
"We saw that there was a need and we filled it," Mary said.
The Hellers started growing hops on the farm and shadowed a friend who worked at another brewery to learn how to translate the skills they picked up from home brewing into a commercial brewing setting. They set up shop in downtown Bedford, opening a small brewery and tasting room in a space shared with Fat Jimmy's Outfitters, a bicycle shop, and Wholesome Living Marketplace, a natural foods grocery. The arrangement has been beneficial to all, the Hellers said. The three businesses help one another attract customers and Wholesome Living even recycles some of the spent grains that are a byproduct of the brewing process into baked goods (some of the spent grains also go to a local farmer who uses them as hog feed).
The Hellers incorporate many flavors from their farm into the brewery's tap list. Most of their beers include at least some of their homegrown hops. And they've sourced many other ingredients from Hideaway Ranch as well: Wild raspberries, cherries, crab apples—even some spruce tips. They're working with a local beekeeper to produce honey right on the farm that will start to be used in some beer recipes next year.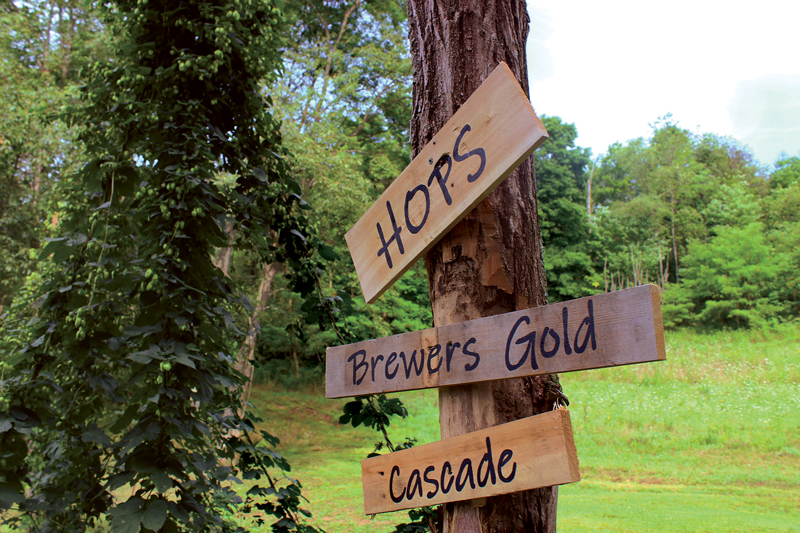 What doesn't come from the farm, they try to source locally. A lot of the grain comes from local growers, Dancing Star Farms especially. They used 15 pounds of local pumpkins for a "gourd to glass" variety this year. A recent spicy ale they produced to benefit the local fire company incorporated local jalapeno peppers. Their flagship porter uses ingredients from two local businesses just down the street: Espresso beans from Hebrew's Coffee Company and chocolate from Bedford Candies. Another beer incorporates local blueberries.
"You can experience local," David Heller said. "It's great for someone like us to have a customer in from Pittsburgh and we can tell them how it was made, where it came from and they can go up to Dancing Star Farms and see for themselves. It helps to educate the public on how important agriculture is to their everyday life."
It's why the Heller's have shied away from bottling their beer to be sold off-site. Aside from having their brews on tap at a select few local restaurants, almost all the sales happen at the Bedford brewery, at events hosted on the farm, or at a satellite tasting room in the nearby resort town of Raystown Lake. With that face-to-face interaction, visitors can not only enjoy the beer but learn the story behind it as well.
"We're more about the taproom experience," Heller said. "Anybody can buy a beer off the shelf but we want to be able to sit here and talk about our product."
Joining Beer and History
In the early 1790s, Western Pennsylvania was the setting for the first major test of our fledgling nation's newly established system of government.
America had just shifted from a loosely knit alliance of independent states to a nation unified under the then-brand-new U.S. Constitution. Saddled with the debt taken on to finance the Revolutionary War, the freshly created federal government began looking for revenue sources beyond the duties it collected on imports. It settled on an excise tax on distilled spirits, the first (and at the time only) tax on a product produced domestically.
That didn't sit well with farmers in Western Pennsylvania, who relied on extra income from distilling excess grain into whiskey, which was easier to transport through the mountains. And the structure of the tax and the economy west of the Appalachians were such that western farmers and distillers were hit much harder by the tax than their eastern counterparts, putting them at a competitive disadvantage.
Westerners resisted the new tax and tensions escalated, ultimately resulting in an armed uprising in 1794. Then-President George Washington personally led troops into Bedford.
So what does all this have to do with beer? Washington was a brewer and well-known for his porter recipe. And as David Heller—a self-described history buff—points out, there's a certain irony that as the nation's first president led troops into town to quash the Whiskey Rebellion, he was very likely sipping his own tax-free, brewed concoction.
Thus Olde Bedford Brewing Company's tagline: "Join the Whiskey Rebellion… Drink Beer!"
"We're all about the Whiskey Rebellion," Heller said. "Bedford really is known for its history—as is all of Pennsylvania. They didn't call it the Keystone State for nothing. And we wanted to keep that going."
It's hard to miss Heller's fascination with history. Shelves around the brewery tasting room are filled with books about history and the walls are decorated with local artifacts. And the names of many of the brews on the tap list help tell the region's story: Flintlock IPA, 1794 Red Rye, Brits Brew—named for John Brit, a late 18th Century brewer in Bedford County who the Hellers discovered while scouring historical records.
Even some of the ingredients that go into the beer have a historical connection. Heller is working on an English-Style Bitter using a yeast from Bedford, England, the namesake of Bedford, Pa. And he's involved in a project to brew with locally grown Rosen rye, a heritage grain that, although once a staple in Pennsylvania whiskey, has rarely been cultivated in the state in the past 50 years.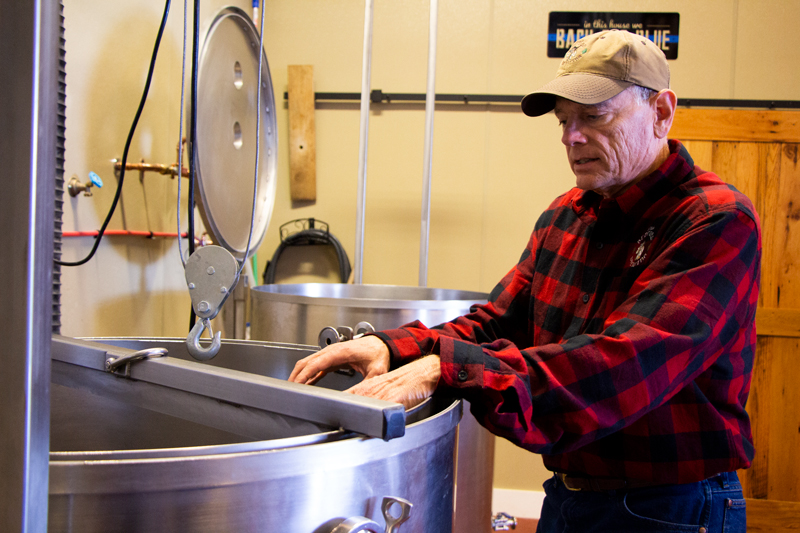 "None of us know if Rosen rye was ever used in a beer," he said. "To be able to do a beer that's going to emphasize the Rosen rye for it's taste and quality, it's exciting."
To Heller, the beer doesn't just reflect on the region's history; it's part of it. He's particularly interested in how societies and cultures have been shaped by beer and so-called "third-spaces" like his tasting room where the community can gather and enjoy a pint of suds.
"I enjoy looking at the history of beer and how it affects the populace," he said.
The taproom decor also plays into the story. Much of the wood comes from the Hellers' farm or others in the area. The Hellers' created some of the furniture and accessories, like a wooden chandelier over the bar, themselves and worked with local artisans on other items. Particularly popular with customers are the sample flight trays crafted from old whiskey barrels. Even the restroom—which David Heller proudly proclaims the "nicest bathroom in Bedford"—has made it into many a social media post.
To comply with regulations requiring food to be purchased with alcohol during the COVID-19 pandemic, the Hellers have added a menu of gourmet hot dogs to accompany the brews in the tasting room. In addition to their beers, they also serve a variety of craft spirits and wines from across Pennsylvania. One of the best parts of opening a brewery, they noted, has been joining a close-knit community of craft beverage producers who view each other as collaborators more than competitors.
"Everybody likes to see everybody working together," David Heller said. "Everybody has respect for what everybody else is trying to do."
In just a few years in business, Olde Bedford Brewing Company has already picked up some big accolades, including a few top-three finishes in the beer contests at the Pennsylvania Farm Show. They may not have the whole future mapped out. But whatever they do next, it's sure to come with a good story.