Dauphin County farmers tell farm-to-table story through high-quality beef.
Story and photos by Bill Zeiders
Hershey, Pa. is well-known for its chocolate. Visitors come from all over to see the hometown of the famed chocolate company and to ride the roller coasters at Hersheypark.
But if you travel just north of the park, over the hill and behind the Hotel Hershey, you'll find Bow Creek Farms, where farmers Rob and Amy Hess aren't thinking about chocolate. They're thinking about beef.
The Hesses, Farm Bureau members, started farming in 1994 with a focus on growing hay for horses. In 2005, they first dabbled with raising a few cows and calves, and bought their first Red Angus. At the urging of an expert from the Red Angus Association, they got involved in competitive cattle showing and worked to raise a Grand Champion Red Angus.
The Hesses have since moved away from showing animals. Instead, they're using their expertise in cattle genetics to raise high-quality beef.
"We saw more long-term potential in selling beef than showing animals," said Rob Hess.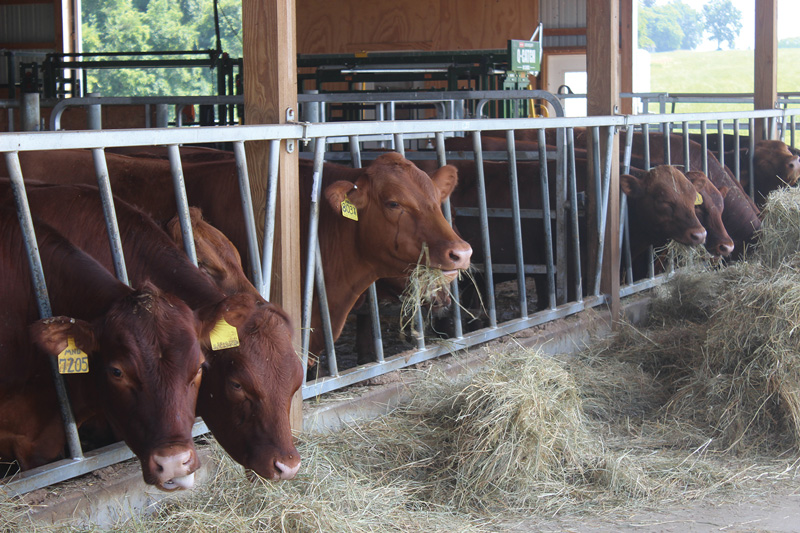 In 2012, they started a partnership with Hotel Hershey, which agreed to buy all of the meat from 15 cattle.
"They were ecstatic with the quality of beef," Hess said.
Tim Cook, who was a sous chef at the Hotel Hershey before taking over as executive chef at the Hershey Country Club, has worked with the Hesses for eight years and can attest to the quality of the beef.
"The best thing about Bow Creek is that it's right down the road," he said. "I trust Rob and Amy. They know everything about their animals and the care that goes into them comes out on the plate."
Nicholas Arnold, executive chef of the Hotel Hershey, says the advantages of sourcing beef from a local farm are many.
"We love that we support local agriculture," he said. "Locally grown means that we not only know the farmers but we know the beef as well. It comes from one farm, one area, one processor."
Both chefs are eager to share the farm's story.
"I have on my menu 'Bow Creek Farms,'" says Cook. "I have also run wine dinners using just their product. My members seem to love it."
"We tell the story of the Hess family at the dinner table for our guests," Arnold added. "We share with them how uncommon it is that they are a partner virtually right next door. We also label this on our menus. Our guests absolutely love this, as it is true farm-to-table."
In 2019, the relationship with Hershey changed slightly. The hotel no longer takes entire animals, but they still use the farm's beef extensively.
"We are supplying ground beef for the entire facility," Rob Hess said. "All the ground beef they use at the hotel is ours."
The hotel now gets ground beef from 35 to 40 Bow Creek angus a year. And there are a handful of other restaurants around the area that also use their ground beef as well as other specialty cuts.
The timing of the change worked out well for the Hesses, who were in the process of starting to sell cuts of beef directly to the public. They bought a small shed, finished the interior, and opened a shop on their farm.
"There was a little bit more involved in opening a little place to sell beef on the farm than I thought," said Amy Hess. "It was just like opening any other store."
It was a big decision to open the store, because it involved expanding the farm and building another barn. Their business partnership with the Hotel Hershey had stretched them almost to the limit of their production at the time. And they had to work with the Pennsylvania Department of Agriculture to obtain the proper licenses to sell food at the farm.
"I think it was timely based on changes with the hotel," Amy said. "It sort of all worked out in our favor."
The store is open two days a week, and features 40 cuts of beef and more than 50 different items. The beef is all raised on the farm and processed in Mount Joy, only 22 miles away.
The customer base for the store is steadily growing. It's only been open about two years, and the Hesses have already established repeat customers.
"Some people come in every single week and buy one cut, and some people come in every month and buy a bunch of stuff," Rob said.
The Hesses have learned a lot about beef through running the store, and by interacting one-on-one with customers.
"Before we started the shop, we didn't really need to know a whole lot about each cut and where it came from," Amy said. "So we've educated ourselves on that, too."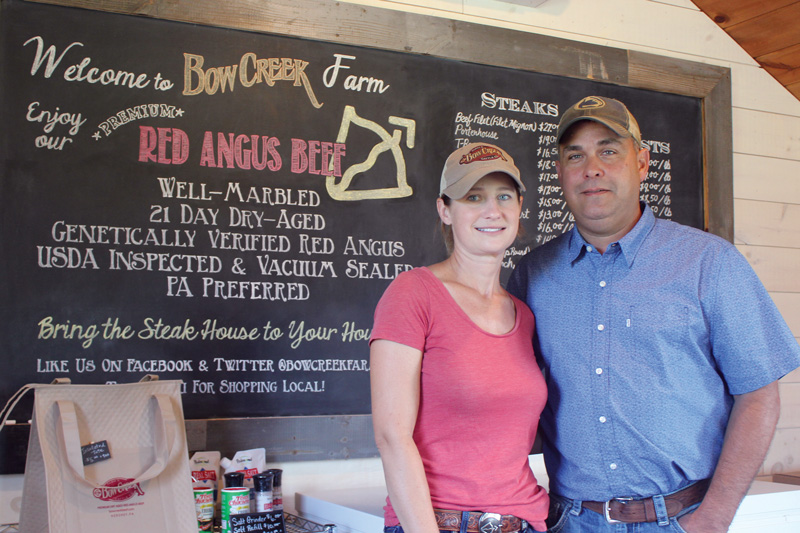 What most surprised them was that many of their customers were looking for information as much as they were looking for beef. Some wanted help picking out cuts, some had no idea how to best prepare the steaks they were looking to buy.
"Some customers that come in don't really have an idea of what cut they're even looking for, even as far as steak cuts, so it's sort of fun to educate them on different cuts and different ways you can cut beef," Amy said.
"We were astonished that a huge number of consumers had no clue what to do with beef," Rob said.
But the Hesses are more than happy to teach their customers, not just how to cook different cuts of beef, but also how farmers care for their animals.
"They just want truth in advertising," Amy said. "They want to be reassured that you're raising (the animals) appropriately."
The Hesses found that there are many cuts that most people have no familiarity with, cuts that don't get a lot of recognition. But when they take the time to explain some of the finer points of cooking a ranch steak, or a flatiron steak, they see customers coming back to buy those cuts again.
"You can't go anywhere in central Pennsylvania and buy a lot of the cuts we have," says Rob. "We've been able to get people to like those cuts once you've been able to talk to them."
"That's been really fun," said Amy, "to get people to discover the cuts they haven't tried before."
The farm raises and finishes between 65 and 70 Red Angus steer every year, and processes about 60 per year. They work to provide high-quality through genetics, low-stress environments, and proper nutrition.
"Our goal is to raise our animals in as stress-free an environment as possible," Amy said. "Sometimes that means being in a pasture, sometimes that means being in a barn. The field isn't necessarily the most stress-free place."
"I don't think there's any one specific right way or wrong way to feed steers," Rob added. "We ought to take advantage of their adaptability to lots of environments and feed them numerous ways."
"Breeding the most efficient animal not only helps us economically, but it also actually lowers the carbon footprint of the animals," Amy continued. "If we're able to breed the animal and get it to the plate in a faster time, that's lowering the carbon footprint."
Along with the physical store, the Hesses are hoping their latest venture will allow even more people to experience their steaks. They launched an online store around the beginning of the year, and while the traffic so far has been slower than expected, they believe the product will speak for itself.
While it's hard to compete with large, established retailers for online steak sales, Rob said, Bow Creek has the advantage of being able to control the beef all the way through the process.
"We would be the only people controlling the meat—and controlling the genetics—on the market," said Rob. "We need to convey that story."
The Hesses and Bow Creek Farms want to connect with consumers 'farm to fork' by telling a responsible story.
"To me, a responsible story is one that doesn't include fear marketing about other types of farming," Amy said. "We're science based. We're looking to nutritionists. We're looking to veterinarians. We're looking to agronomists to tell us what is best for our animals."