Juniata County farmer on a mission to tell story of farmers' dedication to their animals, the environment and quality food.
Story by Liam Migdail
At 19 years old, Chris Hoffman thought he had his life figured out.
He planned to enroll at the Pennsylvania State Police Academy and begin a career in law enforcement. But with a year and a half to go until reaching the minimum age, he found a job in the meantime working on a hog farm. He had no background in agriculture but decided to give it a shot.
"I was kind of just biding my time," Hoffman said. "I figured: I had a year and a half, why not?"
Something about working with animals clicked. Soon, Hoffman was promoted to the farm manager. He put off the police academy for another year to see where his tangent into farming would take him. Before long, he knew what he was meant to do.
"Things went forward to the place where I started thinking: This is something I could do on my own," Hoffman, of Juniata County, said.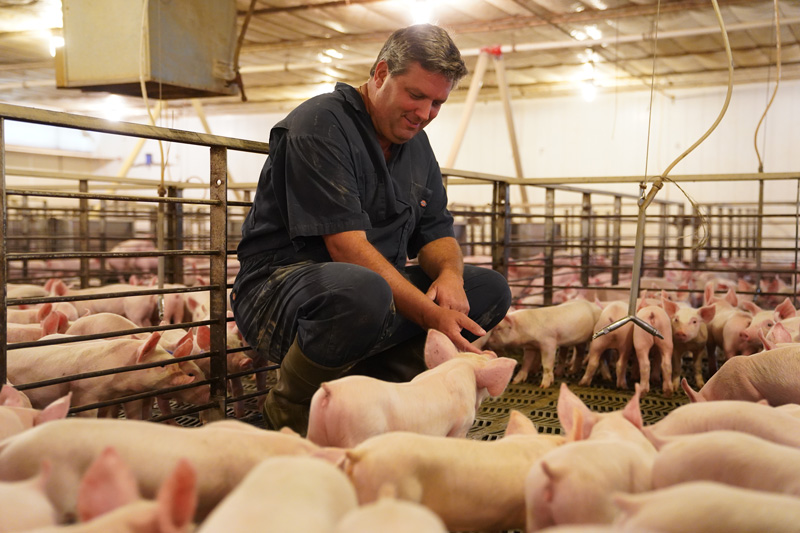 At 23, he bought his first farm—Lazy Hog Farm—and started raising hogs on contract, an arrangement where the farmer is paid to raise livestock owned by another person or company.
Close to three decades later, Hoffman is recognized nationally for his work. He was named America's Pig Farmer of the Year for 2020 by the National Pork Board. The annual recognition goes to a hog farmer who exemplifies standards for caring for animals, the environment and food safety and who's passionate about telling the industry's story.
Hoffman, who also serves as Pennsylvania Farm Bureau's vice president, has a particular knack for promoting agriculture. He acknowledges that the industry, and particularly his segment of it, are often misunderstood.
By all measures, he operates what some would refer to as a "factory farm" or "industrial agriculture," terms often used in a derogatory context to conjure up images of a faceless and uncaring entity churning out food. Hoffman jumps at the opportunity to demonstrate that perception couldn't be further from the truth.
"It's the story I can tell," he said. "It's the story that I have that can help lead people to the understanding of what it is we do and why."
Hoffman's operation, Lazy Hog Farm, is very much a family farm. Hoffman included, there are six full-time and three part-time employees, four of them family members. The business is spread out over four farm locations and raises about 35,000 pigs a year from birth to market. He no longer raises hogs on contract; instead, he owns the livestock himself and sells hogs ready for market to an independent pork company near Philadelphia. He also expanded into chickens in 2012.
It's not the scale of the farm that matters when it comes to animal care, Hoffman said. It's the level of dedication put into ensuring animals are comfortable, content and healthy.
"We provide the same care whether we have five pigs or 500 pigs," he said. "It's not about how many pigs you have. It's about having the proper care."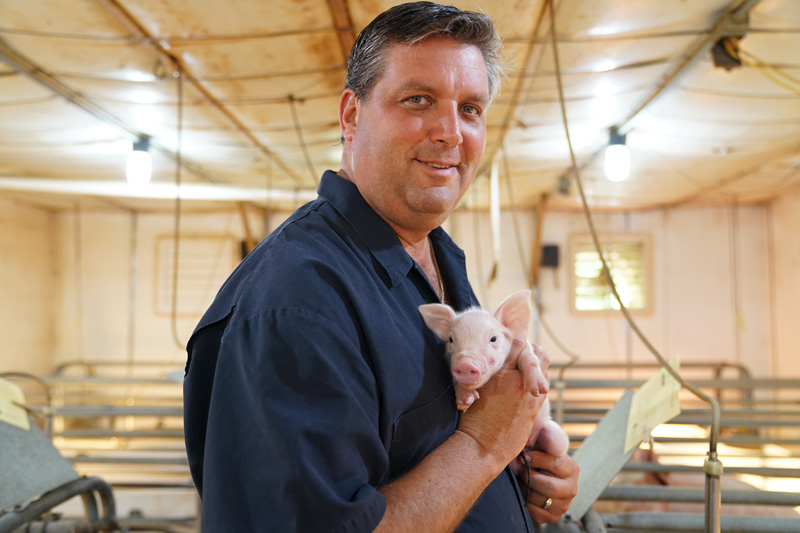 Hoffman uses a variety of automated systems to keep his barns comfortable around the clock and ensure that his pigs can eat and drink at their leisure. Machines help the farm run more efficiently and improve animal care but they aren't meant to replace the human touch, Hoffman said. He has regular contact with his pigs as he cares for their wellbeing, including getting onto the floor of their pens with them to test comfort level and temperature.
The pigs' manure—or "liquid gold" as Hoffman calls it—is recycled as fertilizer for land that Hoffman rents out for other farmers to grow their crops. He follows detailed environmental plans to ensure that those nutrients stay in soil, where they're beneficial, and out of local waterways, where they can be problematic.
And while Hoffman dislikes the comparison of farms to factories—mostly because it's usually done to cast agriculture in a negative light—he's proud of the ways that technology has enabled his farms and others to be more efficient and more responsible.
"If you look at what pork cost 20 years ago, you can buy pork for the same price today," he said. "How have we been able to do that? It's all based on science and technology and efficiencies. Farmers aren't making more money. We're just learning how to do it better."
Those advances have not just kept pork affordable, he said, but have enabled farmers to do more while minimizing their environmental footprints and providing better care for their animals.
"To me, it's about being efficient. It's about being able to produce food and fiber for the world," Hoffman said. "It's hard to explain, the feeling you get from being able to know that you provided for your friends and your neighbors and the community around you. That's what I'm most proud of: that we're feeding people."