A longtime family tradition, sunflowers are now a way for this Cambria County farm to share the beauty of agriculture.
Story and photos by Darrin Youker
In a way, the sunflowers planted at the Smithmyer Farm in Cambria County are keeping a tradition alive. But at the same time, they're helping spark another generation's interest in agriculture and attracting visitors to the farm to see them in their summer splendor.
The Smithmyers have always grown sunflowers on the farm as a way to beautify the grounds. Now, visitors can get lost in them.
Two years ago, Molly Smithmyer convinced her grandfather, Tom, to plant two fields of sunflowers and create a maze out of them. It was a way to supplement the activities that normally happen in the fall—a corn maze and pumpkin patch.
While several farms in the area were doing corn mazes, none were creating mazes using sunflowers. The unique hook on the traditional farm maze, and photographic beauty of the sunflowers, made the maze a hit.
"My dad always planted sunflowers for my mom," said Molly Smithmyer, a member of the third generation to work on the family farm. "I wanted to do something at the farm that would bring people in and keep the legacy alive."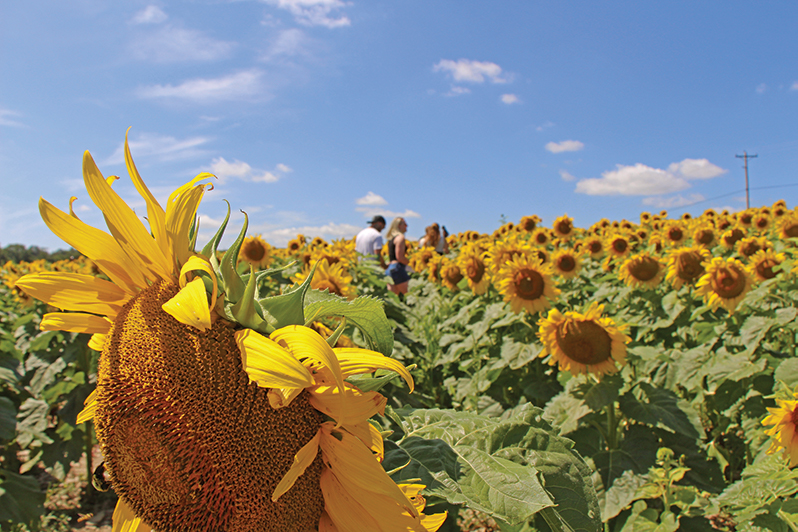 The sunflowers turned out to be more popular than the corn maze, said Mary Smithmyer, Molly's grandmother. Last year, more than 10,000 people came out to the farm to wander through the golden blooms.
"No one else around has one like this," said Mary Smithmyer. "Everybody loves looking at them. People love having their picture taken near them."
Set in the rolling hills of Cambria County—filled with green in the middle of summer from the corn and soybean fields—the bright yellow of the sunflowers stand out in sunny contrast. Wandering through the maze, with row after row of enormous blooms, creates endless photographic opportunities. The uniqueness, and picturesque setting, helped word spread about the Smithmyers' maze.
"We have photographers come here to do graduation portraits, baby announcements and other events," Molly Smithmyer said. "It is so picturesque."
Peak sunflower season is short, with blooms in their full glory for only a few weeks. To help draw visitors in, Molly Smithmyer worked with a few local food trucks, and brought in a local beekeeper to help visitors learn the important role that pollinators play in our food system.
This year, the Smithmyers planted three fields of sunflowers, but did so not knowing if they would be able to host a maze this year. The COVID-19 pandemic has thrown into question whether events and activities can take place as normal. The maze was able to open when the sunflowers bloomed in late July and is following certain steps to protect visitors
"We just want to make sure it is safe for everyone who comes to the farm," Molly Smithmyer said.
Just like every year, farmers are planting in faith that they will have a healthy, productive crop. For the Smithmyers, they planted in faith, hoping that they will be again able to bring visitors to the farm to enjoy its beauty.