Adams County distillery bottles history by using grains grown on the Gettysburg battlefield.
Story by Liam Migdail
Photos by Holly Cohick

Ask Yianni Barakos how Mason Dixon Distillery got started and he'll tell a story that begins long before the craft distillery and restaurant opened its doors in July 2016.
It starts when Barakos was 11 years old and built his first still, working off a design his grandfather scribbled down on a cocktail napkin.
Barakos had been asking his grandfather about his younger days as a coppersmith in the mountains of Greece. His grandfather was describing the stills he would sometimes work on and jotted down the design as a visual aid.
Mechanically inclined and interested in science, Barakos constructed his own using a gas burner. He came close to burning the house down. Not wanting to discourage the budding scientist, his parents bought him an electric cook plate and told him to take it outside.
"I think my mother was terrified and my dad was just: 'Oh that Yianni,'" said Barakos, a Lancaster County native.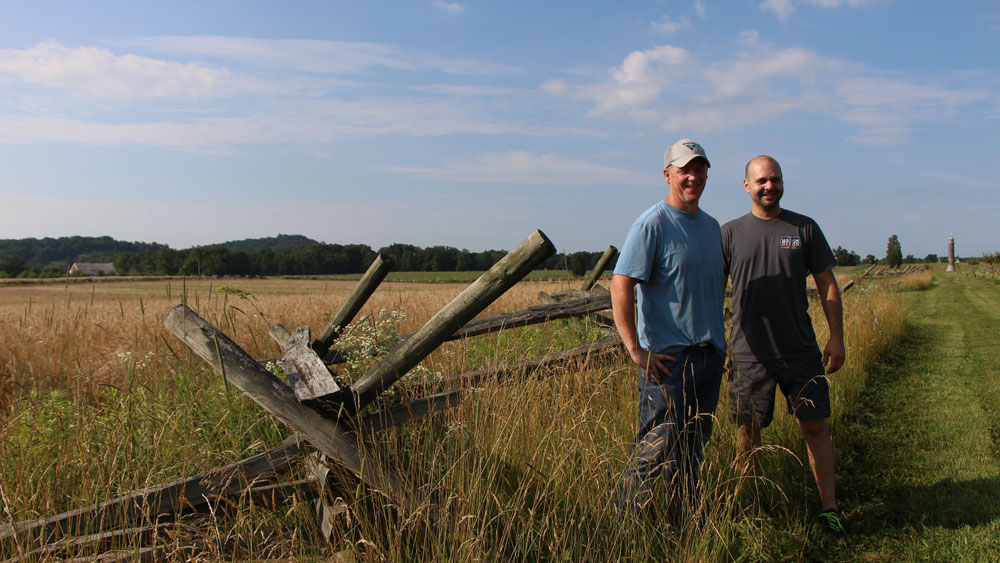 The whiskey, rum and vodka Barakos makes today in his Adams County distillery have an even older backstory. Each bottle is produced — at least partially — from grain grown in the soil that witnessed one of the most solemn and significant events in American history.
Barakos, a Farm Bureau member, leases 47 acres of Gettysburg National Military Park through a program that allows farmers to grow crops right on the battlefield. It's a responsibility he doesn't take lightly.
"Not many distilleries at all grow their own grains and then having such a historical site where we can literally put battlefield in a bottle, that's really powerful to me," he said.
"What we're doing has a soul, a very real soul. To me, that's part of craft. It's not just producing something. It's producing something that has a story. It's producing something that has a history — in addition to being good."
Opening a distillery wasn't always Barakos's plan. He'd started a career as project manager for a general contractor before a bad car accident sidelined him for two years. As he recovered, he made plans for the distillery.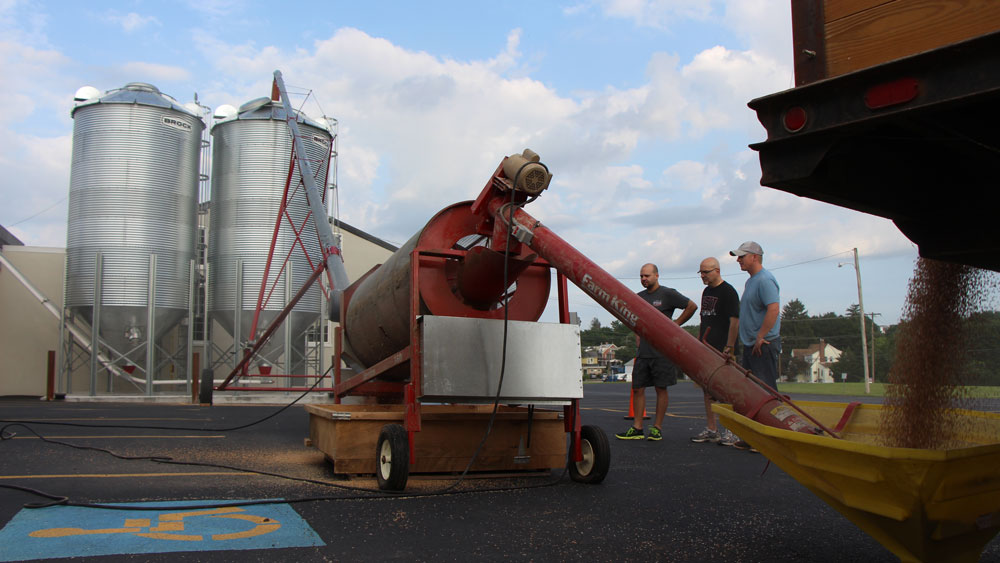 The opportunity to lease part of the battlefield led Barakos to locate the distillery — which he co-owns with his father, George Barakos — in downtown Gettysburg.
Barkaos knew some basics of farming, having worked on a horse farm, but decided to leave the growing to the professionals. He contracts with a local farmer — Josh Ramsburg, also a Farm Bureau member — and others to produce the grains. Still, he makes a point to spend some time in the field.
Harvested grains are taken to the distillery, cleaned, ground and cooked into a mash. After the mash is fermented, the alcohol is pulled out, concentrated and bottled. Some liquors, such as dark rum and whiskey, need to be aged.
For his spirits, Barakos mostly uses corn, wheat and rye — although he's looking into experimenting with other grains for a one-off "scratch" series. Each batch includes some raw grain from the battlefield. The rest of the raw grain is sourced from within five miles of the distillery. He said the decision to source locally and work with farmers he can build a relationship with was a no brainer.
"Why wouldn't you? Adams County is huge in agriculture," Barakos said. "It's part of the reason why we're here."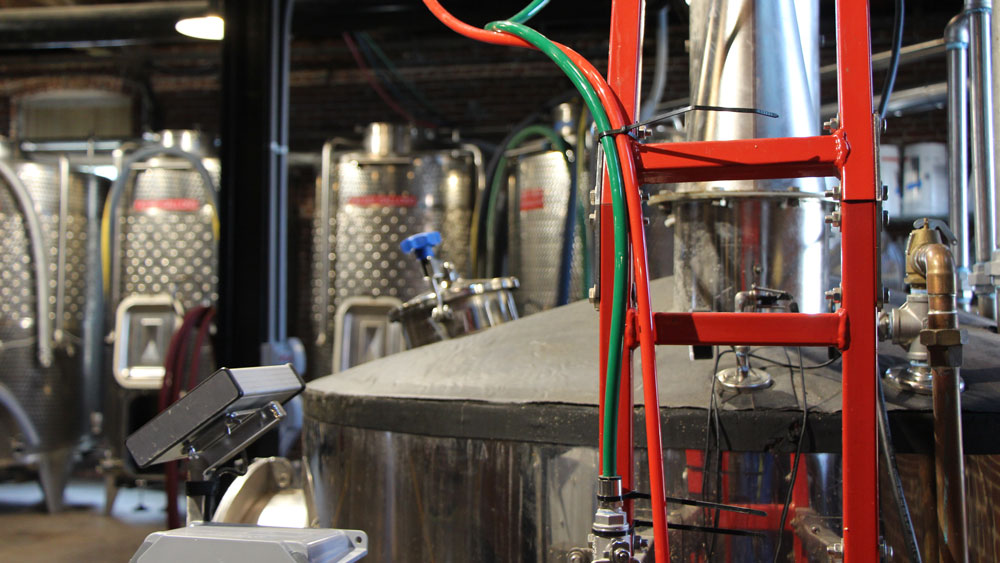 That philosophy carries over to the restaurant side too. Mason Dixon offers a menu of fresh comfort food inspired by cuisines around the country and sources what ingredients it can from local farms. Some items are even grown in a garden on site.
The spirits produced on site are sold by the bottle or in drinks, including an ever-expanding lineup of craft cocktails. For visitors who aren't into hard liquor, the bar also offers exclusively Pennsylvania beers, wines and ciders.
The food and drinks are served in the open space of a restored furniture factory. Communal tables promote socialization.
"We're not just a distillery. We're not just a restaurant," Barakos said. "I think what we've put together at the end of the day is just a really thorough social experience. There are no TVs in my dining room. There's no open WIFI. People are almost expected to talk to one another."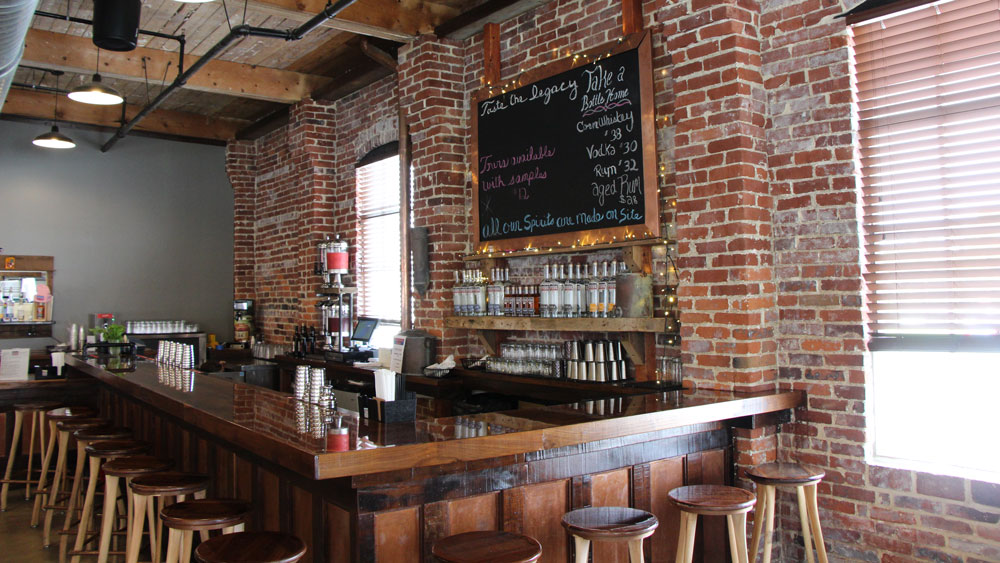 Barakos's hope is that he's building a legacy, something that will last long after he's gone. And he hopes that whether his guests are enjoying a craft cocktail, tasting a fresh ingredient or just taking in the atmosphere, that they're experiencing the many stories Mason Dixon Distillery aims to tell.
There's the story about the deadly and costly battle that helped shape the nation we know today. There's the story about Adams County's agricultural heritage. And of course, there's the one Barakos opens with: That one about the inquisitive boy turned inquisitive man now living his dream.
"It's deeply personal," Barakos said. "I'm giving a piece of myself to everybody who comes in the door."
Mason Dixon Distillery
What:
Craft distillery and restaurant
Who:
Yianni and George Barakos
Where:
Gettysburg, Adams County
Learn more: