Fourth generation farmers bring yogurt business to the family farm
Story by William Whisler
Photos submitted by Stephanie Painter
Growing up as the fourth generation on Painterland Farms in Pennsylvania's Northern tier, sisters Stephanie and Hayley Painter always knew that they would return home to the family business.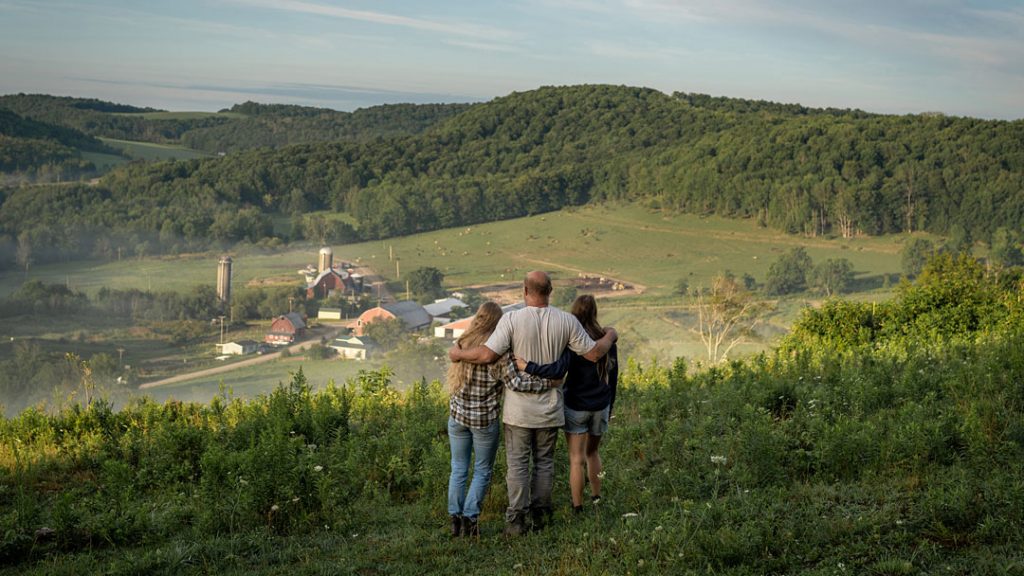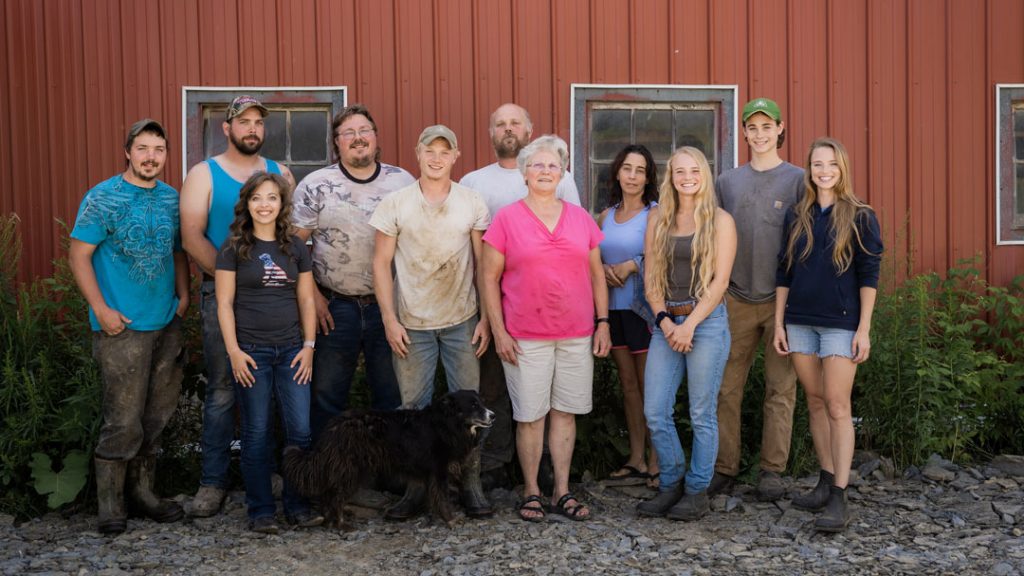 After going off to college and taking a decade to venture outside of the rolling hills of Tioga County, both sisters returned to their roots in farming, with a greater appreciation for the land that they grew up on.
"Basically, we grew up on the farm and it was just completely intrinsically a part of us and every fiber of our being," Stephanie said. "We knew that we were going to do something with the farm and the great base that our family has provided by working their tails off their whole lives. We pretty much said 'OK Dad, we're going to run off to college and see the world. We can't just hang out with our cows and cousins. We've got to get out there.' We wanted to absorb everything the world had to offer and bring it back to the farm."
In March, the Painter sisters, who are Farm Bureau members, officially launched into the yogurt business with a one-of-a-kind product – organic skyr (pronounced skeer) yogurt.
Skyr is an Icelandic style of yogurt that is extremely creamy and rich in protein, soy, and probiotics, while low in sugar. It is higher in nutrients than other types of yogurts. The Painter sisters' skyr yogurt is the only skyr in the United States that is made using organic milk from a single source – the Painter family farm. The Painters' skyr yogurt is sweetened naturally with berries and cane sugar.
The product also features a lactase enzyme in it to be lactose free.
"We didn't want to give people another excuse to not consume dairy," Stephanie said. "Obviously we're dairy girls and 65 percent of people in America have some sort of lactose sensitivity. We wanted to make sure that we were giving everyone the opportunity to indulge in this yogurt."
The sisters experimented with making cheese before eventually coming around to skyr.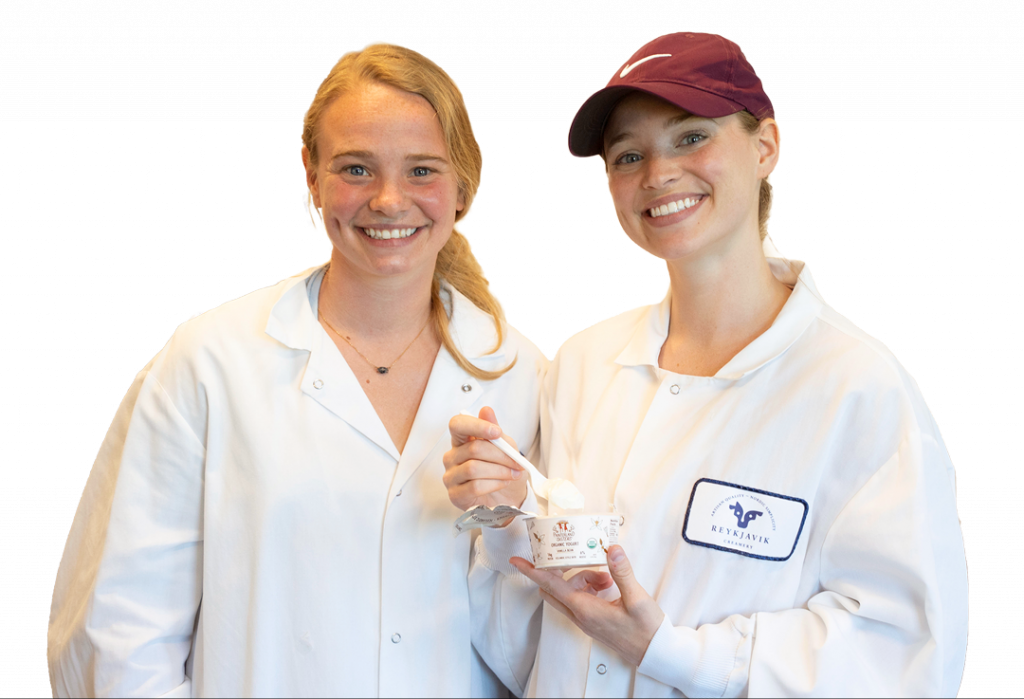 "The planning process really started with, we want to come back to the farm, and we don't really want to milk cows every day," Hayley said. "So, let's create a value-added product that can really help the farm and bring it out into the world."
"Basically, we wanted to connect people to agriculture and to our farm, and wanted to do so in a cool way," Stephanie said. "We had a mission, but we didn't quite know what we wanted to do with it. We stumbled down a couple avenues and we were pretty set on making cheese and probably went down that avenue for two years."
The idea to switch to skyr yogurt came after multiple conversations and connections that the sisters had made over the years. After a couple attempts to get started, the Painters were able to partner with Reykjavik Creamery in Newville.
"It really just came from talking to people and the connections that we had made," Hayley said. "We eventually found this scenario here and we decided that this is the product that we can envision and that we can put our brand behind and put our farm behind."
The sisters then applied for grants and received a grant from the Dairy Center of Excellence and began business planning with Kitchen Table Consultants to formulate a plan before connecting with Reykjavik Creamery.
The partnership was a key cog in the process for the Painters, as getting started proved to be a tough obstacle once the idea and business model was in place. The Painters decided to brand the yogurt as the Painterland Sisters, paying homage to their family farm's namesake.
"It worked out perfectly for the girls who always had this dream of doing that," John Painter, the sisters' uncle, said. "They wanted to build a plant, but it just wasn't feasible for them to do that at this scale and when they approached Reykjavik who had this facility that was capable of doing it, it was a perfect fit. It gave them some business and that gave us a good product that we didn't have to spend ultra-millions of dollars to get running. It's very exciting for the farm and everybody is thankful for that opportunity because it was kind of like it was meant to happen."
One of the biggest advantages of the partnership with Reykjavik comes from its high tech and unique ultra-filtration system which allows the product to be more consistent and keeps the milk proteins from being lost when making the yogurt.
"Most yogurt in the US is made with centrifugal separation," Don Everett, Chief Financial Officer of Reykjavik Creamery said. "The advantage that ours has is that we can get a very consistent product from week-to-week for our clients. In milk, the two primary proteins are whey protein and casein protein. In centrifugal separation, you lose a lot of that whey protein out with the waste. We can capture a tremendous amount of that with our product that gives it that taste and texture you can pick up on. It offers more of a nutritional benefit, and it tends to make a smoother product."
The Painterland Sisters' yogurt is currently available in Pennsylvania, Maryland, New York, Delaware, and New Jersey and the sisters are planning for a hard launch of their product in July and hope to go coast to coast in the future. They are currently offering five flavors: Plain, Vanilla Bean, Blueberry Lemon, Strawberry, and Meadow Berry.
"The yogurt market is becoming increasingly competitive," Everett said. "The brands that we are seeing do really well are the ones with a unique story to tell and a value-added product they are offering. I think that Painterland fits perfect with where the market is going. They can tell their story all the way to the cow, and they have environmental stewardship, and they are doing lactose free which is also a bit more cutting edge. Whenever you have a unique brand and a unique value proposition you see success, and I would say Painterland is at the top of the list as far as what they have to offer the marketplace."
With their yogurt comes the mission to not only support and grow the farm, but to teach others about agriculture as well. The Painterland Sisters' yogurt labels are interactive, featuring QR codes that allow the consumer to connect directly with the farm and learn about the product and the dairy industry.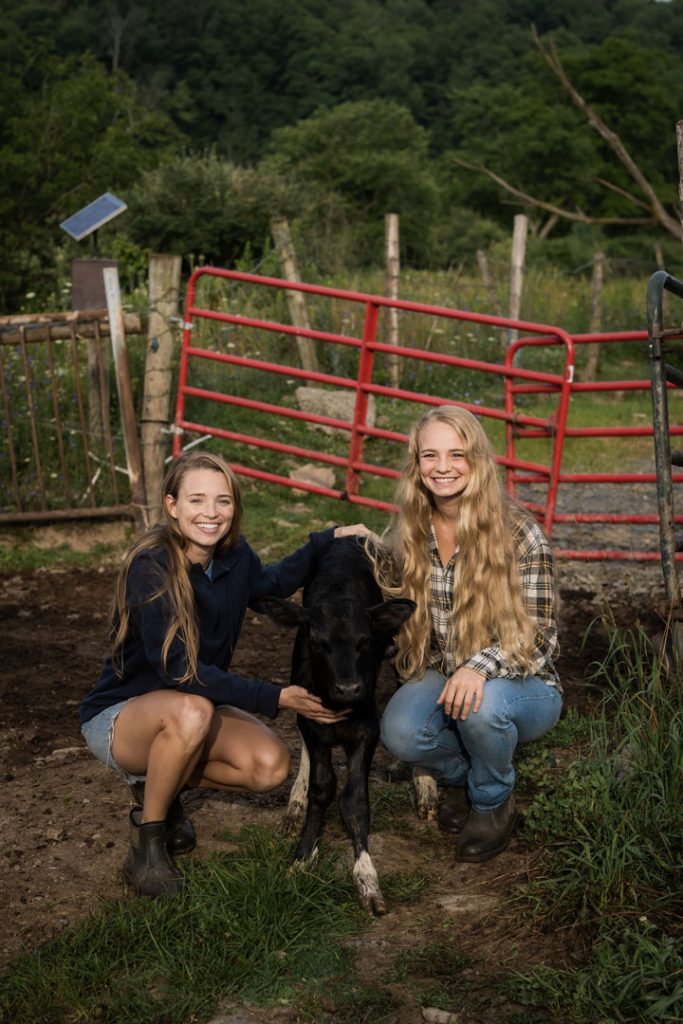 "We want to educate people while we're doing this and connect people in a fun-loving way," Hayley said. "We're doing that on social media and on our labels. We even have fun interactive games so that they can go to our website, or our social media, and learn about cows in a very transparent, easy way. They can go to our Instagram and see what the cows are up to that day."
As the future of Painterland Farms, the sisters are taking it upon themselves to leave a solid foundation for the next generation.
"We started this for our future generations to be able to come back and continue the family farm and to connect consumers with their food and to help them understand agriculture," Stephanie said. "It also gives them a nutrient dense product. With our farm, the consumer will know how the animal was taken care of and how the soil was taken care of. Our family instilled this passion in us and now we want to do this for the next generation."
Learn More