Rusty Rail Brewing Company showcases innovation
Story and photos by William Whisler
Paul and Eric John are no strangers to entrepreneurial endeavors. When the opportunity to delve into something new appeared, the brothers quickly jumped at the chance.
Having purchased an old cabinet factory to house a sister company called Legacy Building Products to support their modular home business, the Johns began to contemplate what to do with the extra space within the 250,000 square foot warehouse they possessed that was vacant.
The Johns, who own and operate Ritz-Craft Corporation – the largest family-owned modular home business in the country – had a vision and passion for craft beer.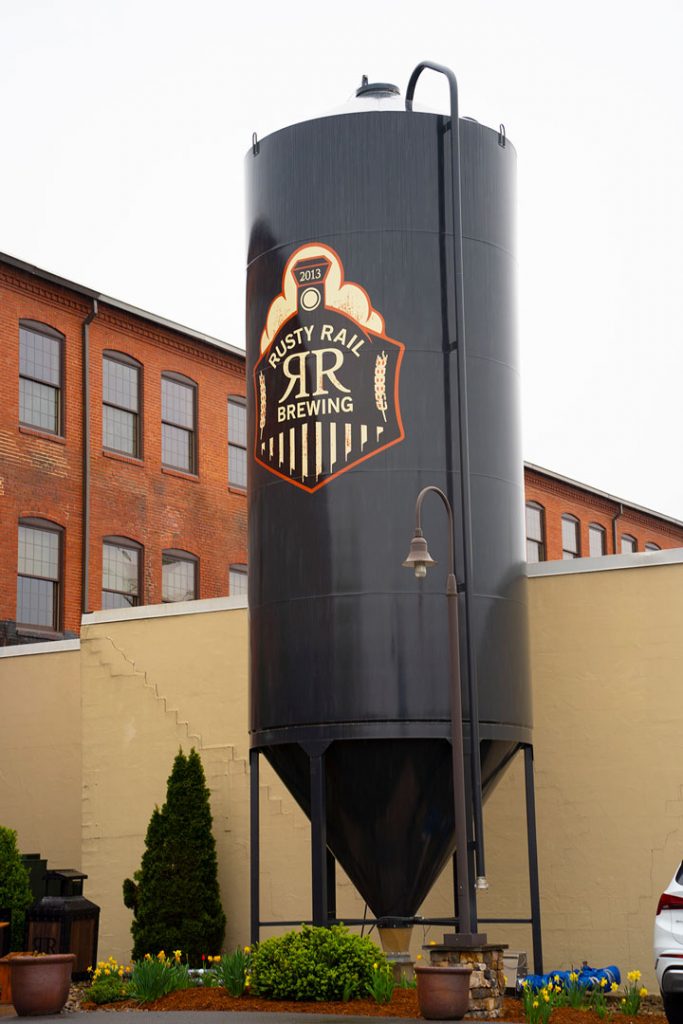 "I had already worked for Paul and Eric on the construction side of their business, and I got involved (with the planning) in 2013," Rich Schrader, the Rusty Rail President, said. "(The Johns) were trying to figure out what they wanted to do with this part of the building and there were a lot of ideas that had been thrown around over the years, but the one that kept coming back was a brewery."
Eric's interest in owning a brewery began as he experimented as a home brewer while Paul, a Farm Bureau member, is an entrepreneur who loved the idea of opening the brewery to re-purpose the building and serve the community.
The brothers paired their passions with the remaining free space in their Mifflinburg warehouse and in January of 2015, the Rusty Rail Brewing Company was officially born.
"After two years of planning, we were incorporated in 2013 and then the build out started and that went from 2014 until we opened the facility and the taproom side of it and the restaurant in 2015, which brings us to where we are today," Schrader said.
From its initial launch, the Rusty Rail took off in popularity, as the volume of local and regional sales moved the needle as far as what Schrader initially thought was possible. The Rusty Rail originally intended to do its own distribution, but quickly learned that for the business to continue to grow it would need to partner with wholesalers.
"The distribution when we first opened was really meant to be more local, but I think the part that was a little bit of a surprise was how much we saw potential in growing it outside of the local market pretty quickly," Schrader said. "We started out with about five wholesale partners and now we have partners in Pennsylvania, Delaware, New Jersey, New York, Ohio and Maryland."

A big part of the Rusty Rail's success in the craft beer industry has revolved around its variety of products and ability to keep up with the trends in a constantly evolving and competitive market.
"The philosophy behind the beer is that we like to think that we have a lot to offer the local community here," Guy McCarty, the Rusty Rail Brewery Director, said. "If we see trends emerging anywhere, we want to be able to represent that to our local community. We like to provide a wide variety of different beers and we take a lot of pride in being able to provide different styles along with being able to execute traditional styles really well."
When it comes to developing new products, the brewery relies on research and examining historical trends. Everything is calculated and meticulously planned to ensure a product will be well received.
"We really have no pilot system, everything is full send when we do it," McCarty said. "We've been able to build a really great culture with the local bars and local beer distributors so that when we have a new product, people are looking for it. When people hear about trial runs or new products, I think that there is this expectation that maybe it's a bit mysterious or dangerous, when in reality, we're basing everything off of history and our seven years of brewing and experiences, so it's not as risky as it would maybe seem to people. It's more along the lines of, 'does the consumer want that style?'"
One of the companies top selling beers is Fog Monster, which is a New England Style IPA, which the company describes as "a juicy fruit taste with pronounced hop characteristics, medium body and a mild bitter finish." The brewery canned and sold its one millionth can of Fog Monster in April, a special benchmark for the 15-barrel brew house.
"That was a benchmark that you know, for some of the larger breweries is probably a week's worth of production or something," Schrader said. "We're still pretty small in the scope of things. So, hitting those benchmarks on one of our flagship beers is something that we wanted to celebrate. Fog Monster has been a great beer for us, and we really want to try and continue to grow that."
The explosion of the craft beer market in recent years has led to challenges as well, with the brewery trying to stay ahead of the game to constantly be introducing new products to attract customers.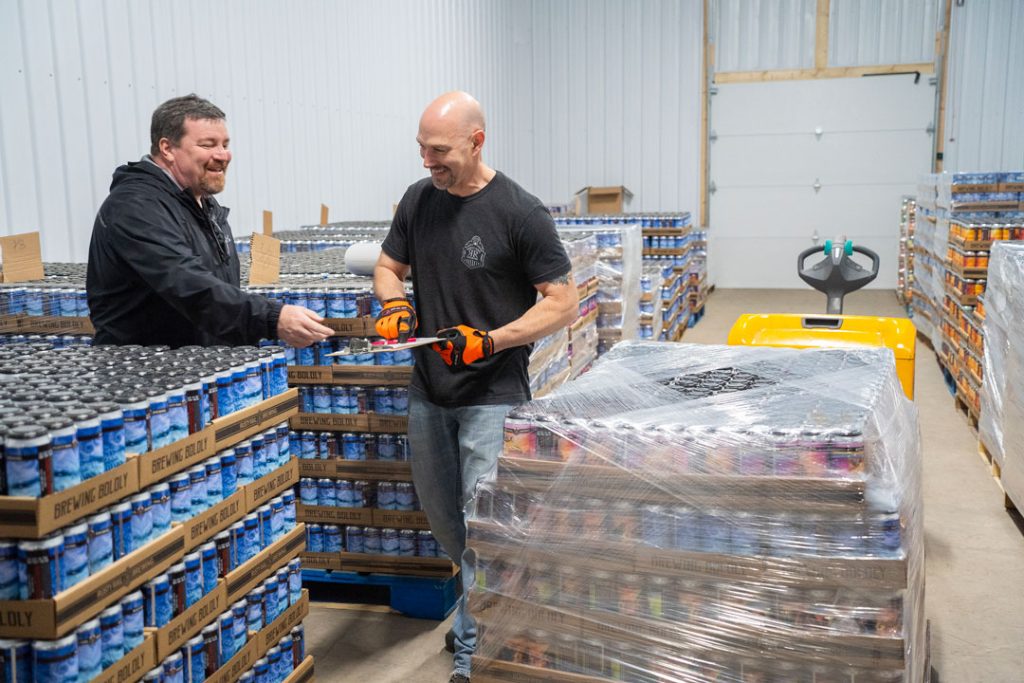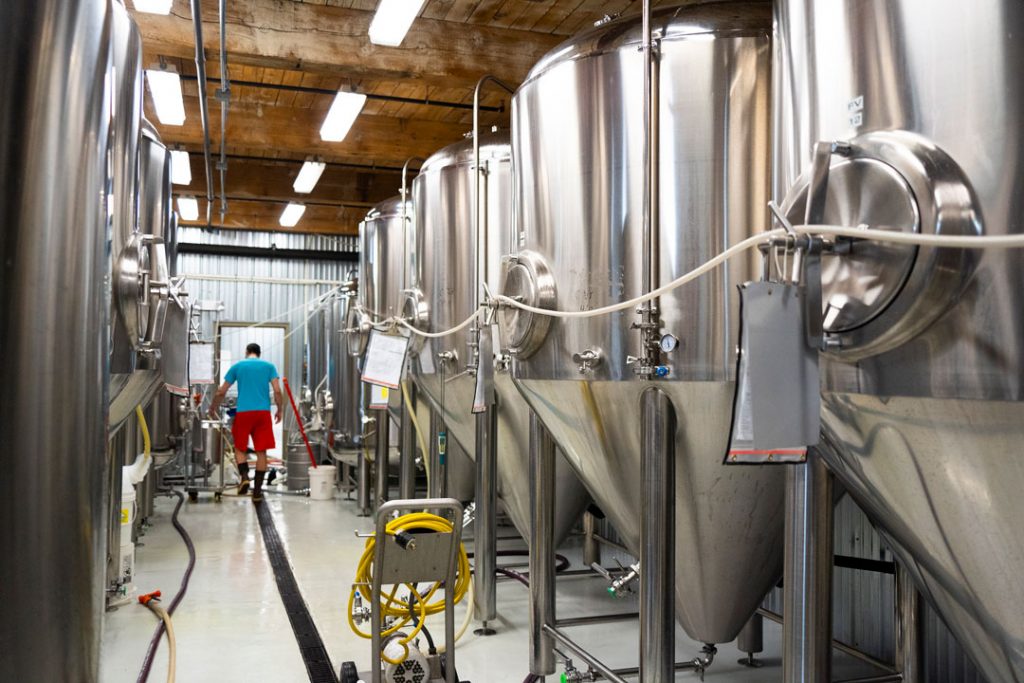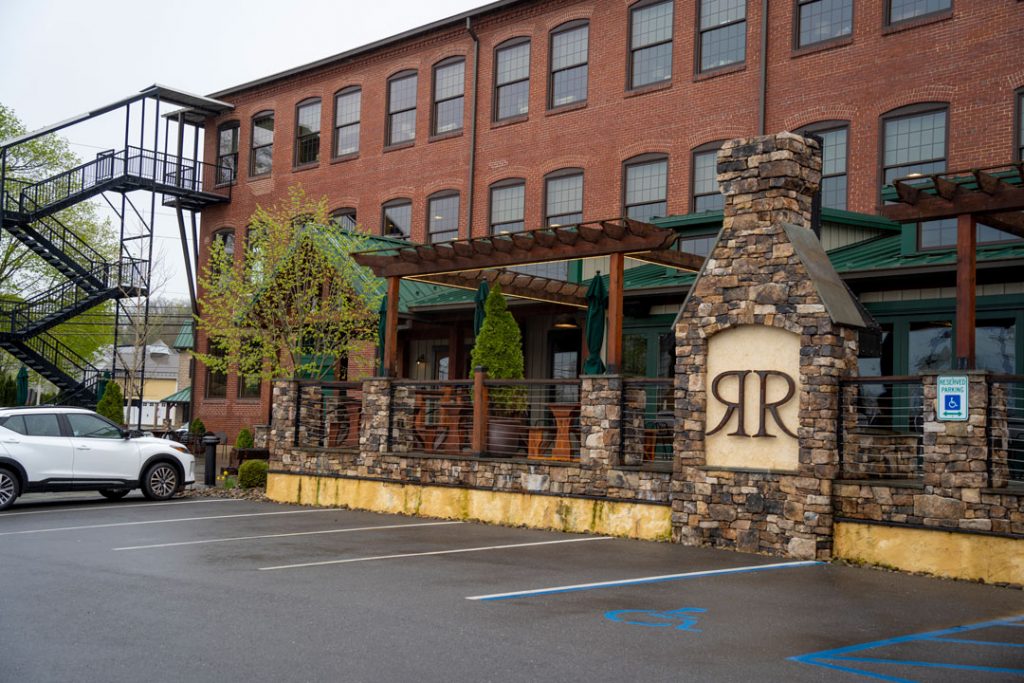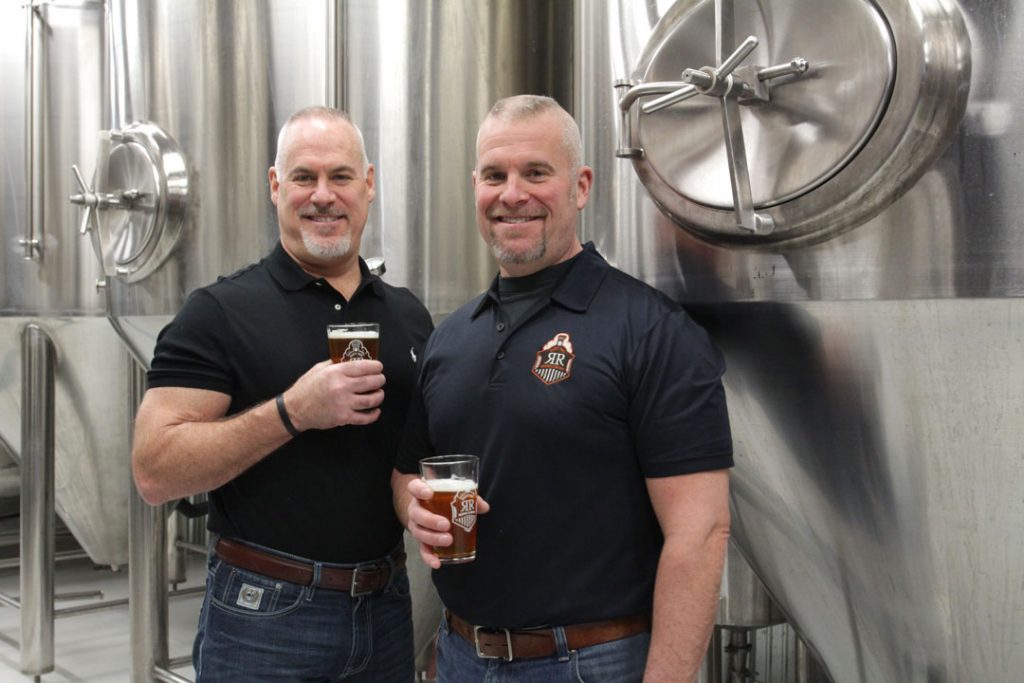 "People used to be really excited when anybody made anything new or was doing anything new or a new brewery was available," McCarty said. "I used to work as a manager at a retail distributor before I got into the other aspects of beer, and I remember that if someone made a new beer, people were stoked. Now, if you are not dropping like five new brands, you have to do a lot to make an impact and to stand out. It puts a lot of pressure on you to be unique and to be innovative and to come up with fun ideas. We love the competitiveness of the market and it's really a historical job, considering how things have changed over thousands of years. To see new styles and new yeast strains and technologies is fun. You can either be really welcoming and excited or you can fight it. We embrace it."
With that growth in sales, the Rusty Rail Brewing Company has grown on site as well. The warehouse features a three-story building, complete with an immaculate main bar and taproom, railroad decor to pay homage to Mifflinburg's heritage as a rail town and an open window that allows guests a peak into the brewery, located in the basement.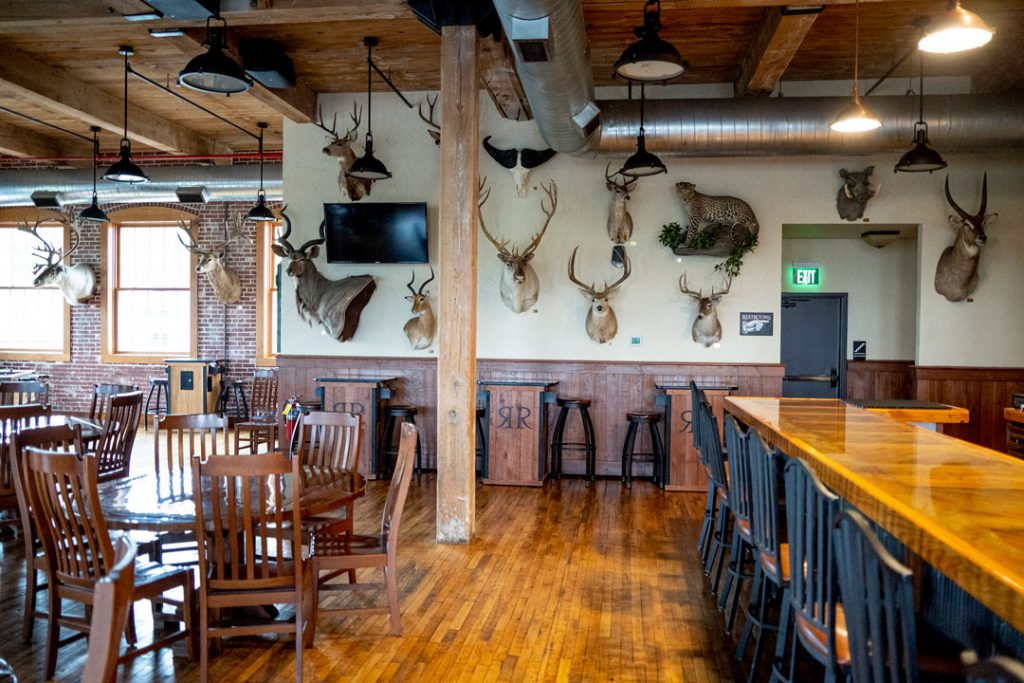 The site also features a second bar and game room, decorated with a wild game trophy collection with an open hallway that overlooks the main bar. The second story also features a massive event space and a chapel where the brewery hosts weddings on site – which are growing in popularity – with 42 weddings scheduled for 2022, according to Schrader.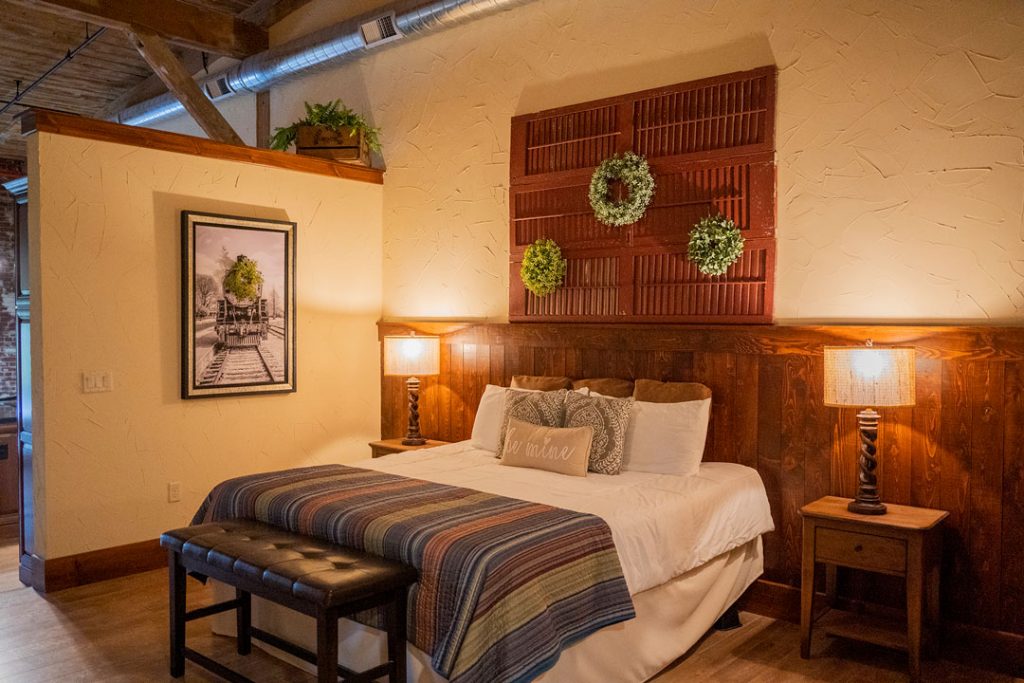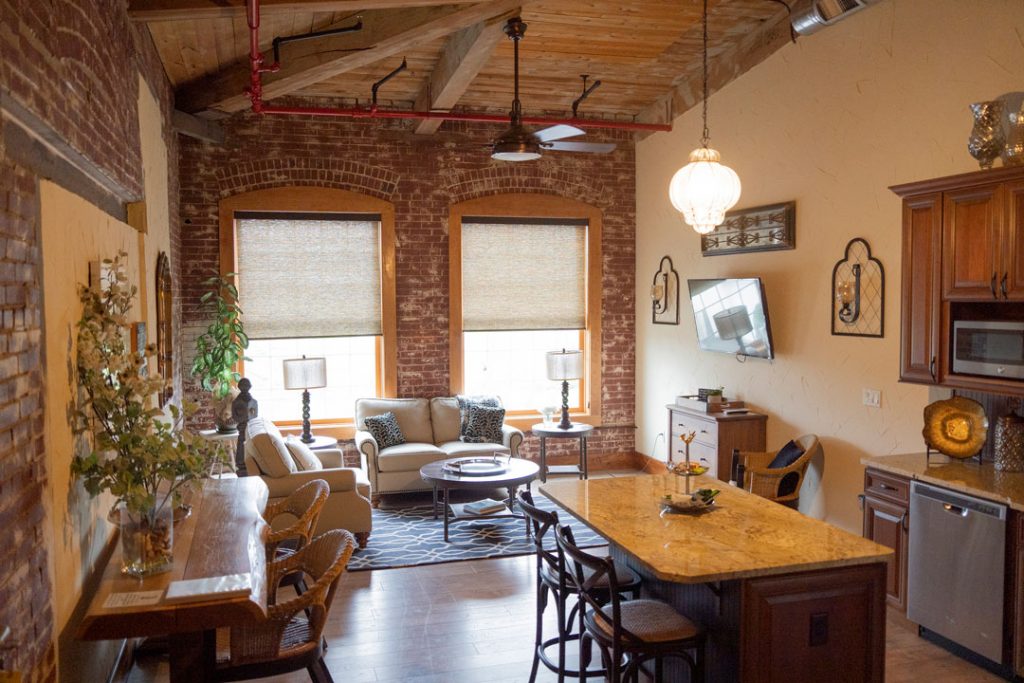 The third floor features eight massive suite-style hotel rooms that would rival a rustic studio apartment in a big city. The third floor of the warehouse is currently being renovated to boost the lodging of the Rusty Rail to 18 rooms.
Of course, with the brewery is the Rusty Rail's pub itself, complete with a wide variety and constantly evolving menu that has made the brewery a popular destination in Central Pennsylvania.
"We just try to always stay fresh and stay creative," Schrader said. "Our chef Angela (Hess), she's amazing and is constantly coming up with new ideas. We just released a new menu overall, but we have a lunch menu, a main menu, weekly features. She's constantly infusing new beers and trying to incorporate the beer into everything that we do. I give her a ton of credit for her hard work and her creativity. We do literally have to eat, drink and breathe this business in order to stay competitive. It's a living, breathing organism that is constantly evolving. People's tastes and expectations are constantly changing."
With its growing brand, the Rusty Rail has formed multiple partnerships within the local community and has given back through numerous initiatives and currently is donating some of the proceeds of one of its beers, called Shimmer, to the Buffalo Creek Watershed Alliance and a veteran charity called Freedom Fighters Outdoors.
"We do a lot of these types of things," Schrader said. "We just recently donated to a local fishing derby. We always are trying to help out the community however we can. There's probably a half dozen events each year and then there are some smaller ones where we can do can releases, do something fun and bring people in to raise money for important organizations."
In trying to navigate the current brewpub market, the Rusty Rail Brewing Company hopes that its fearless approach to change and growth continues to lead it down the path of success in what Schrader describes as a true labor of love.
"We spend a lot of time here and I really liken craft beer to farming," Schrader said. "A lot of our guys that work in the brewery, they want to be working in a brewery. They do it because it's something they're passionate about and they love it. There's a lot of that and I feel that farmers are similar. They do it because they love farming and agriculture. Farmers are very prideful and love what they do and what they choose to do. It's such a unique industry and you probably won't survive in it if you don't do it because you're passionate about it."
Learn More