Family dairy farm's fan following comes from commitment to quality, community roots.
Story and photos by Liam Migdail
Illustrations by Holly Cohick
When Scranton-area natives return home after moving away, grabbing a few scoops of fresh, "cow-to-cone" ice cream from Manning Farm Dairy is usually among their top priorities while in town.
For many teenagers throughout the region, spending the summer dipping ice cream at one of the Manning family's ice cream shops is a rite of passage. The job is a badge of honor for the 100 or so high school and college students who make the cut each year and joke that dipping ice cream all summer has given them one strong arm.
And longtime fans know to leave extra time when getting their ice cream fix. On hot summer evenings or when church lets out on Sundays, the ice cream shop lines can stretch well out the door.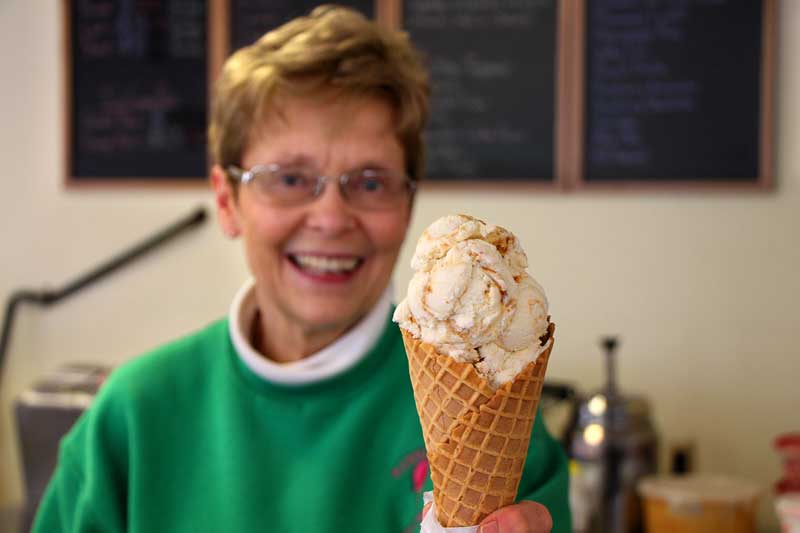 It's the kind of icon status that, as the Mannings see it, results from decades of growing roots in the community and delivering on the promise of quality that worth going out of the way for.
"We have a very loyal following," said Jean Manning, who owns the farm and associated dairy stores with her husband, Paul. "It's a community that expects quality—and they get it."
Paul and Jean Manning, Farm Bureau members, are the farm's third generation owners and operate it along with their sons Brian, Ken and Kevin. They bought the farm from Paul's father, Kenneth, in 1974. Jean had been a music teacher and met Paul when he would deliver milk from the farm to her school.
Paul's grandfather, John, bought the dairy farm in 1920 but it was Kenneth who began to grow the business into a community institution. He started delivering milk direct to customers in 1939. Then in the mid-1960s, he decided he wanted to open up a dairy shop on the farm and start making ice cream.
A friend conducted a traffic study on the road by the farm and told him he was crazy. The rural country lane—12 miles outside of Scranton and six miles from the nearby suburb of Clarks Summit—saw so little traffic, the friend said, that it didn't even warrant a seasonal vegetable stand.
Kenneth Manning's response: "I'm doing it anyway."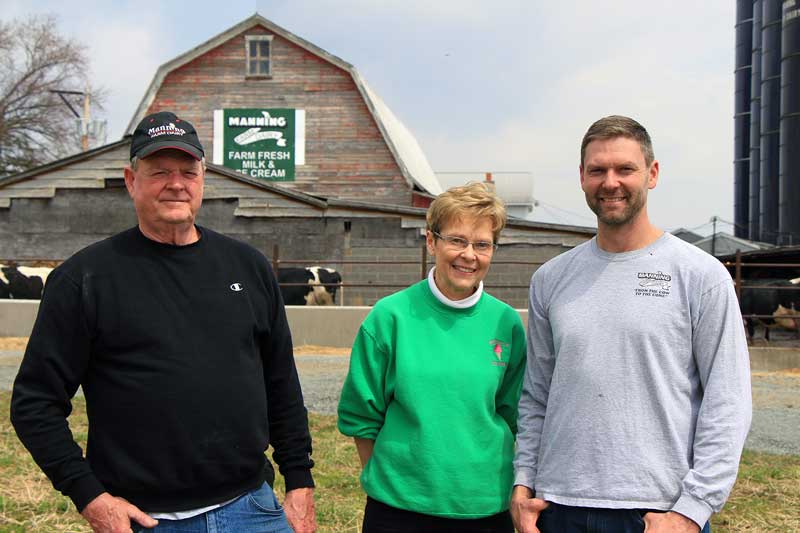 One of the reasons for his bullheadedness on the matter lives on as family legend today: Kenneth Manning loved ice cream. But Paul Manning suspects that his father's foresight and business sense may have had just as much to do with the decision as his taste buds.
The farm's home delivery customer base was aging and dwindling as younger families preferred to buy their milk at the grocery or convenience store. Kenneth Manning saw the writing on the wall, Paul said, and figured that if customers had a good reason to visit the farm, they would continue to buy direct from him. That reason was premium-quality ice cream worth traveling out of the way for.
The next generation has made a point of carrying on that vision.
"Instead of trying to increase the bottom line, we figured: 'We're out of the way here. We're going to make it worth their while,'" Paul said.
And that farm-fresh ice cream is what's made Manning's famous. Customers can still buy hand dipped ice cream—as well as take home ice cream and milk to go—at the on-farm store and as four other Manning's locations throughout the Scranton area. The Mannings also sell their ice cream to area retailers, including Wegmans Food Markets, and have more than 20 wholesale customers who buy the ice cream to serve in their own shops.
"We saw that we had a good product and we had a following," Jean Manning said. "We were able to grow and market our name."
The Mannings have incorporated new technology into their farming and milking, such as a computerized system that tracks data about each cow. But some things haven't changed. On the wall of the farm's modern milking parlor—designed and built by Brian Manning—the breeding wheel John Manning installed to chart the status of the dairy herd is still in use. Milk is still pasteurized the old-fashioned way in vats, which is uncommon today.
"It gives the milk a sweeter flavor," Paul Manning said.
And the ice cream still begins with milk produced from cows born and raised on the farm and fed home-grown crops.
"We are in complete control over what goes into that ice cream and how it's made," said Brian Manning. "We don't use any cheap ingredients. It's all real ingredients."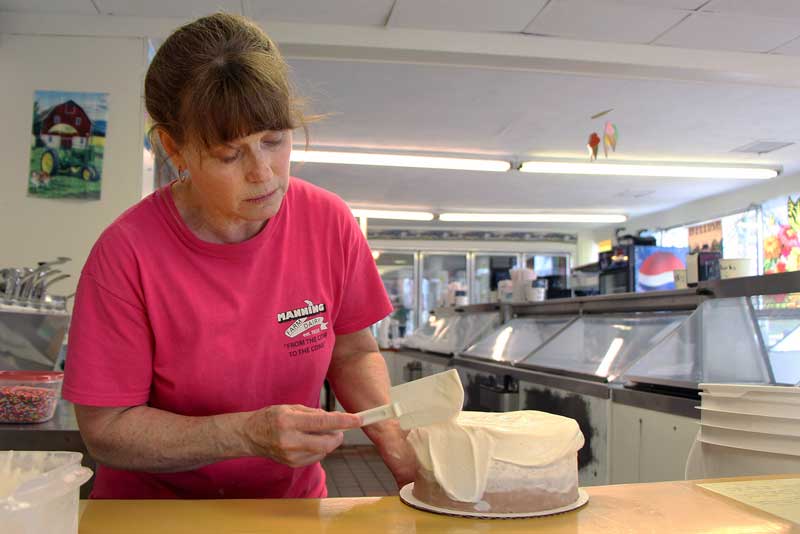 When pure vanilla skyrocketed in price due to drought in Madagascar, the Manning's kept using it over imitation flavoring. The pistachio ice cream is packed with real pistachios—not pistachio flavoring and filler nuts. The blackberry ice cream has real pureed blackberries. All the candy add-ins are high-quality confections from nearby Gertrude Hawk Chocolates.
The Manning's take every opportunity to teach their customers about farming and help them make the cow-to-cone connection. The milking parlor is designed so customers can watch the milking process and visitors to the farm are encouraged to watch the cows in the barnyard. Some have seen calves being born.
"We invite that because we know what a good job we're doing and what practices we have," Brian Manning said. "That's one of my favorite things. In the summer, parents bring their kids over—with their chocolate ice cream that's dripping all over their hands because it's 70 degrees—to see us milk the cows. And the parents have their fill after about two minutes. But the kids are just fascinated."
It's a community that expects quality—and they get it.
"Even in our stores off the farm, we have a whole wall dedicated to showing how we turn alfalfa and corn into ice cream and milk," he added. "So even though it's off the farm, customers still get to see the process."
For Brian Manning, knowing that he and his siblings will be carrying on both a family legacy and a community institution comes with equal parts pride and pressure. As the brothers have taken on more responsibilities, each has found his own niche. Brian's the farmer, working with the dairy herd and growing and harvesting feed crops. Ken oversees the processing and bottling. Kevin works with the satellite stores and wholesale business and, along with his wife Kacy, owns and operates an ice cream truck and shop that serve Manning's ice cream.
As for Paul and Jean Manning, they expect to begin shifting the business to the next generation soon but have no interest in walking away from the farm completely. On a recent Friday, both were busy getting ready for what was shaping up to be the first true day of ice cream weather for the season. Jean baked brownies to use in the ice cream and sell in the stores before heading over to the on-farm store, where employees were busy making ice cream cakes. Paul spent the morning delivering ice cream to wholesale customers before stopping in the store for a few samples from the ice cream case and heading out to the fields with his tractor.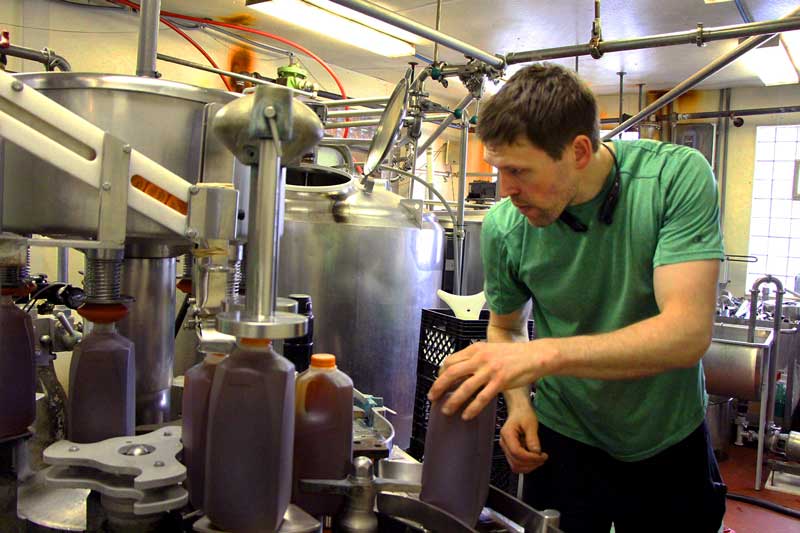 Taking a break between chores, Jean reflected on the roots the business has established in the community. She can't remember ever turning away a community group or charitable organization that stopped by looking for help with fundraising. Manning's ice cream has been a mainstay at community fundraising functions such as the Ronald McDonald House of Scranton's Gourmet Gala or the rotary club's Taste of the Abington's event.
Those activities, along with employing generations of young people and delivering a quality product, have helped weave Manning's into the fabric of the community, Jean Manning said. And the loyal following that's come from that, she said, is what's kept their passion alive.
"That's why Paul is still delivering and I'm still making ice cream and we're 70 and 71," she said. "I don't want to give up my spatula and he doesn't want to give up his freezer truck."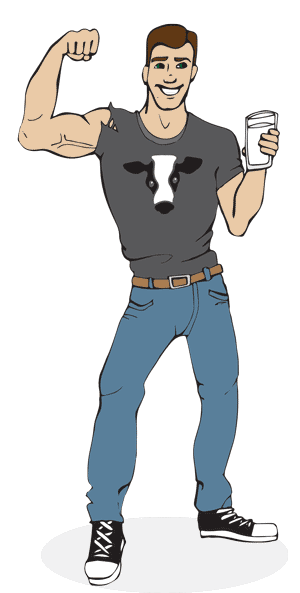 Source: National Dairy Council
June is National Dairy Month, which celebrates dairy products and the families who produce them. And the occasion holds special significance in Pennsylvania, where dairy accounts for the largest economic sector of the state's agricultural industry.
TheOriginal Superfood
Pennsylvania's signature agricultural product is also a key part of a healthy diet. An 8-ounce glass of milk packs nine key nutrients our bodies need to be healthy into 150 calories or fewer.
Understanding Choices
There are a lot of options in the grocery store dairy case.
Whole milk: Milk in its natural form after pasteurization. A serving has 150 calories and 8 grams of fat.
Reduced fat milk: All the same nutrients but less of the fat. A serving of 2% milk contains 120 calories and 5 grams of fat while a serving of 1% milk contains 100 calories and 2.5 grams of fat.
Skim milk: All the same nutrients but no fat. A serving has 80 calories.
Flavored milk: The same nutrients as white milk but with flavoring and a small amount of sugar added.
Organic milk: The same nutritional value as conventional milk but made using organic farming practices.
Lactose-free milk: Real cow's milk with the same nutrients but with the milk sugar (lactose) broken down.
Plant-based drinks: Beverages made from soy, coconut, rice, almonds and other plants or nuts. Often labeled as milk but do not have the same nutritional makeup as cow's milk.
Manning Farm Dairy
What:
Family dairy farm with several dairy stores throughout the region serving fresh milk and ice cream
Who:
Paul and Jean Manning and family
Where:
Dalton, Lackawanna County
Learn more: