Brewery's local focus leads to unique partnership with nearby farmer.
Story and photos by Liam Migdail

When Damien Malfara opened Old Forge Brewing Company, he did so with a three-fold mission: Make great beer and food, prioritize quality over growth and connect the new venture with its community whenever possible.
He outfitted the brew pub with a bar and restaurant furniture crafted by area artisans. He bought locally-crafted dishware and decorated the restaurants with the work of local artists.
"It's almost like the heartbeat of the business," Malfara—who co-owns the Danville brewery with his wife, Maria Malfara—said of its relationship with the surrounding area. "Having that tie to the community is what people care about. It's why we're here."

That community focus even extends to what becomes of the brewery's main byproduct—spent grains left over from the brewing.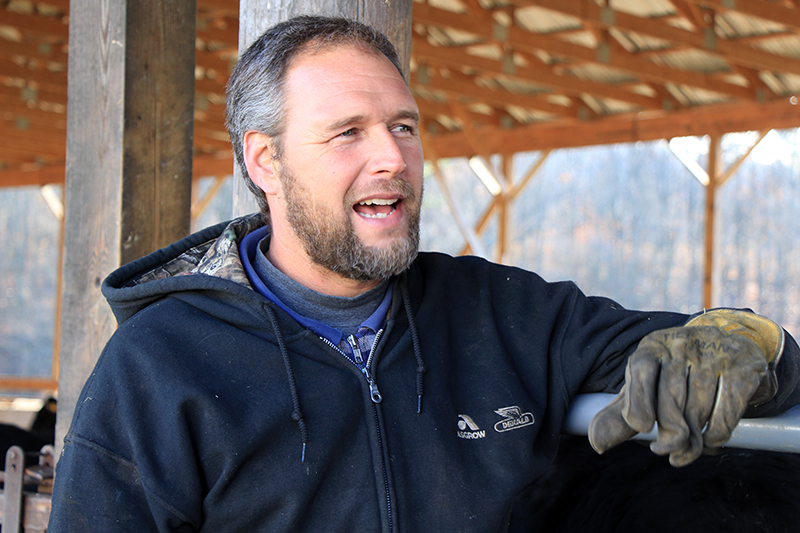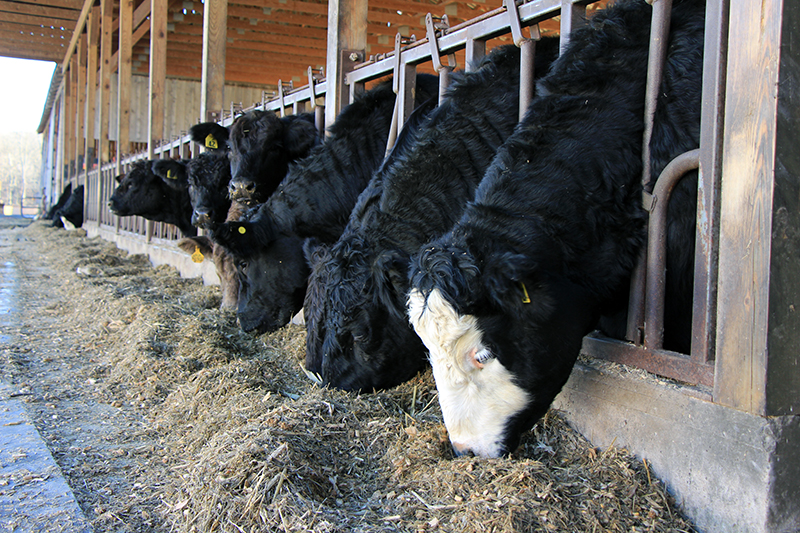 Since Old Forge opened in 2008, the spent grain has gone to nearby farmer Brian Tworkoski, who feeds it to his beef cattle. At the same time, Tworkoski supplies the brew pub with all its beef. So all that spent grain ends up back at Old Forge in the form of steaks, burgers and other beef dishes served in the restaurant. There's even a note on the menu explaining to guests where the beef came from and who produced it.

"It's been a great working relationship," said Tworkoski, a Farm Bureau member. He added that the cows love the brewing grains.

"When the cows really go for it, you know there's got to be something to it," he said.

As Malfara sees it, relationships like that give Old Forge its community focus and are among the reasons the business has developed such a loyal fan base in the area.

"I think that means a lot to customers," he said. "When they come in here, they're spending their money here and we spend our money here."

An avid homebrewer, Malfara left his corporate job to start a brewery. He never intended to open a restaurant but decided on with a brew pub set-up when he had the opportunity to purchase equipment and the building from a restaurant that had recently closed. Craft brewing remains his passion.

"We focus on taking traditional recipes, traditional styles and we tweak them as we see fit for our tastes and what we like," Malfara said.

Today, smaller batches of specialty and seasonal beers are still brewed at the pub. But the flagship beers are produced in larger batches at a brewery several blocks away that Old Forge opened in 2012.

The flagship beers and some seasonal brews are sold in cans and on tap across central and eastern Pennsylvania. But to sample some varieties, you'll need to visit the brew pub. That's where you'll find the ever-changing line-up of beers Old Forge is experimenting with.

"We've always had a goal of making a new beer every month that we've never made before," Malfara said. "While it's always good to have the flagships to fall back on, people always want to try something new, try something exciting."

In the brew pub kitchen, Executive Chef Thomas Heidt takes a similar approach. He strives to keep the menu fresh by constantly introducing new specials.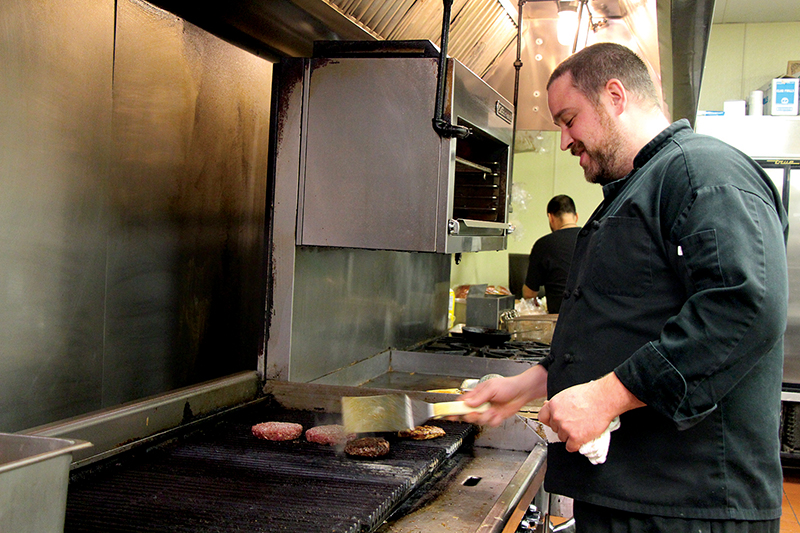 "No one wants to come and eat the same thing every week," he said.

Whenever possible, Heidt said he tries to source ingredients locally. All the restaurant's cheese comes from nearby Penn Cheese in Union County. He has a local trout supplier.

Old Forge buys whole animals from Tworkoski—a record 25 of them last year. Heidt says that forces him to be creative and come up with new recipes so that he uses all the beef he buys without customers getting bored of the same dishes.

"You have to find ways to use the entire animal because you don't want to waste it," he said.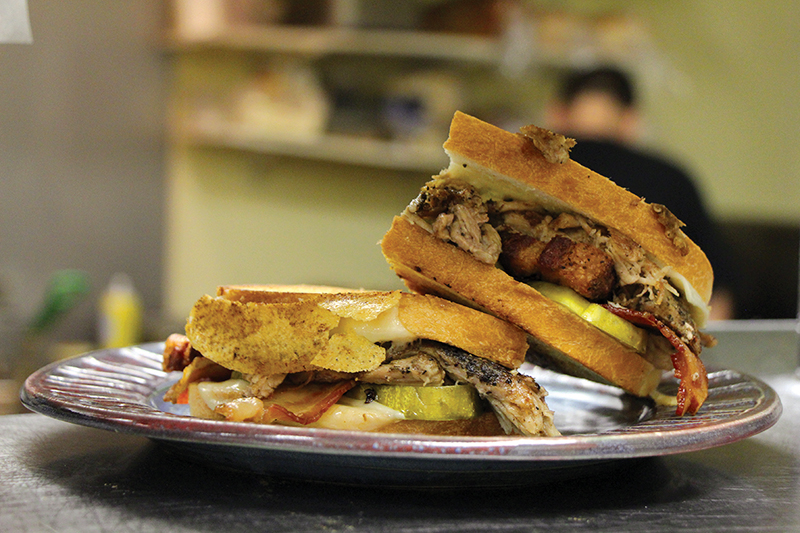 Heidt said buying local gives him peace of mind because he can visit the farm and see first-hand how the animals are raised.

"It allows me to be a little more intimate with the food I make," he said. "I know where it's coming from."

When Old Forge first started buying beef from Tworkoski, they offered two burger options: One that didn't use the local beef and a more expensive one that did. Customers almost always picked Tworkoski's burger so the restaurant did away with the non-local option.

"I think when given a choice, people would rather have the thing that's local," Malfara said.

For Tworkoski, the arrangement is beneficial as well.

Old Forge is his largest customer by far. He sells the remainder of his beef directly to private customers. That set up allows him to focus on the type of farm he's always wanted to run—one where he gets to know both his customers and his animals.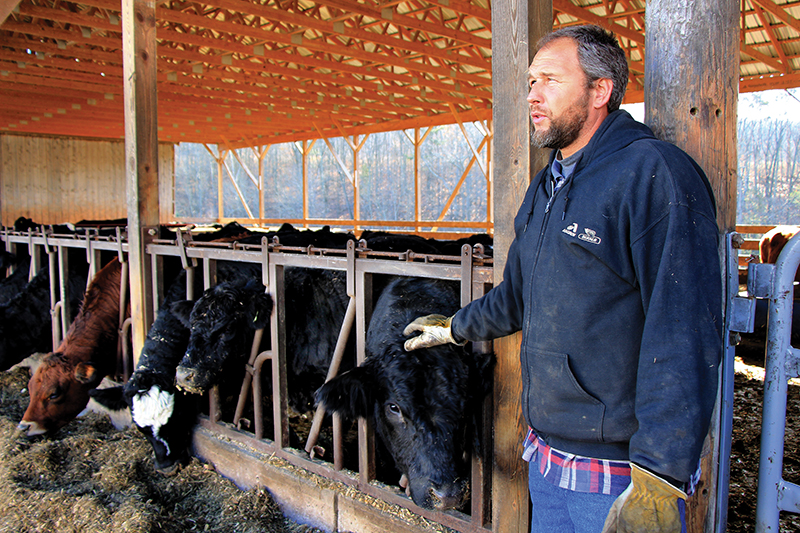 "Thank God I've got customers who support what I want to do," he said.
Tworkoski said he enjoys giving his animals individual attention and getting to know their personalities.

"Cows have their own voice, just like people," he said. "When one yells, I know who it is."

It's why Tworkoski started the farm in the first place. He grew up on a small farm in Berks County and worked on a couple others before buying his Danville-area farm in 1993. Today, he cares for about 175 cows—which he breeds and raises—as well as a few hogs and, during the summer, some chickens.

"I just always knew I loved working with animals," he said. "That's my thing."

In the warmer months, the cows spend their days in the pasture. During the winter, they come into the barn, which Tworkoski takes care to outfit with comfortable bedding. Happy cows are healthy cows, he said, so investments in the animals' comfort pays dividends.

"When animals are comfortable, they just don't get sick," he said. "They're just like people. When people are stressed out, they get worn down and they get sick."

Tworkoski said he's thrilled to see Old Forge's success and credits the brew pub with helping to revitalize downtown Danville—and for getting him into craft beer. He's still tickled to see his beef play a big role and, at times, he's talked to diners he sees enjoying one of his steaks to find out what they think.

"It's a great feeling that people are supporting the brew pub, number one, and that I'm involved in that," Tworkoski said. "I never thought my name would be on a menu."
Old Forge Brewing Company
What:
Brewery and restaurant
Where:
Danville, Montour County
Learn more: