York County farmer serves as a first responder and food provider.
Story and photos by William Whisler
Growing up, Julie Schrum had big dreams – none of which included returning to the family farm or becoming a career first responder in York County – but one day, that all changed.
After going to school to pursue a career in fashion, Schrum moved away from her family farm for 16 years.
"All through high school it was all I wanted to do," Schrum recalled. "I loved clipping out magazine pictures, and I was all about wanting to be a buyer for a department store and I thought that was going to be the greatest thing in the world. One day I just decided I didn't want to move away. I appreciated things more as well as what was here."
While trying to find herself professionally, Schrum returned to York County and became a volunteer firefighter and found she had a knack for the profession, which eventually led her to become a full-time firefighter with York Area United Fire and Rescue. She went back to school in 2014 and received an Associate Degree in fire science from Columbia Southern University.
"I was looking for something extra to do, so I signed up to be a volunteer EMT. The fire chief at the time recommended that I take the essentials program which was an eight-hour beginner class for firefighters," Schrum said. "I took that class, and I really liked that side of things. I got involved a little bit more as a volunteer and then moved on to a full-time position with (York Area United Fire and Rescue) and I've been there for 13 years now."
Schrum responds to a wide variety of calls including fires, car accidents and medical calls. She works rotating 24-hour shifts on a 24 hours on, 48 hours off basis and is key in manning the hoses and advancing into fires when on scene, but her responsibilities don't end there.
"We deal with a lot of different hazards. Obviously, fire is number one, but then you have vehicle accidents, hazmat incidents and a lot of fire alarms," Schrum said. "I work in York, so it's more commercialized. If someone's alarm system goes off, we go out to check it. We also pick up and cover for the ambulances if the others are all out on calls to provide that 5-10 minutes of medical care until the next ambulance can get there to help.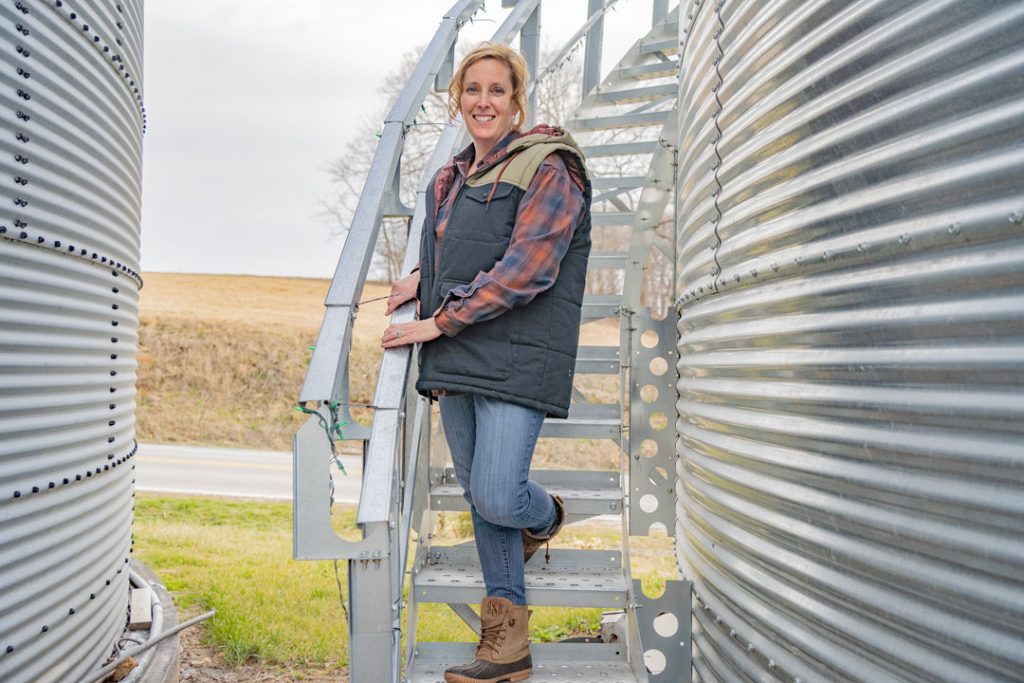 "We are pretty much considered a jack of all trades, very much like in agriculture," Schrum added. "A farmer is expected to know how to do everything from mechanical work to driving, to mathematics, sciences and we are kind of the same way. I have to know how to shut off water pipes or help mitigate some issues with water pipes or broken pipes or whatever. If nobody knows who to call, we are the ones that are called to try and fix the problem."
Schrum also specializes in CPR, having won her fire companies' CPR Clinical Save Award three times. She has worked as a CPR instructor with the American Red Cross since 2008.
To Schrum, the opportunity to give back to the public means everything to her.
"It's definitely rewarding to be able to help serve the public and help residents out, whether it's your next-door neighbor or somebody you've never met before that is just passing through town," Schrum said. "We are there to respond to
that person's worst day. I believe it takes a special breed of person to do this, but it's great to be able to give back and expect nothing in return. We've had several CPR saves on some of my shifts, and if we can bring someone back from cardiac arrest, it's always great to hear their story in how we were able to make a difference.
"Our training, our timing – everything that happens, happens for a reason. We hope to be able to just be there at the right time to be able to help them."
As fate would have it, Schrum's return to York County eventually brought her back to the family farm, as part of the third generation to run Maple Heights Farms in Fawn Grove. The family grows corn and soybeans on their 1,000 acres that they own and lease. Schrum returned to farming with her family five years ago, after her father broke his foot in a farming accident. Shortly after that, Schrum purchased a house that was part of the original family farm.
"Our family owns four properties on the farm and the house that we live in has 150 acres. Back in 1965, when my great uncle purchased the farm, the house was deeded off separate. The house went up for sale and my dad called me and said that it was available," Schrum said. "I called my friend who was a realtor because I just wanted to be nosy and look at the house. We ended up putting an offer in on it that night because it was perfect, and it would piece the farm back together. I had no intentions of moving and coming back to the farm and uproot my child from school, but God puts you in places at the exact moment that you need to be in, and that was what was going on."
Upon her return to the farm, Schrum helped her father digitize his records from handwritten journals and in the fall, learned some skills to be able to lend a hand in production as well.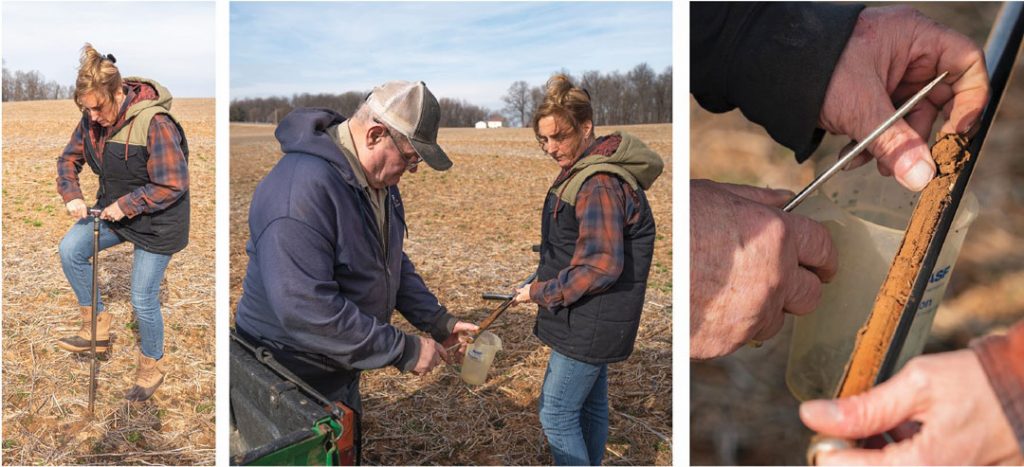 "That fall, I took a five-minute lesson on how to be a grain cart driver and since then, I've learned how to do spreading, some of the planting, soil sampling and a little bit of everything," Schrum said. "I tend to be my dad's right-hand person during the daytime and then in the evening during harvest and planting season, my husband and two other guys come after their jobs
and help out in the evenings."
Even though Schrum finds herself managing 24-hour shift work, the time spent recovering from the workday gives her the freedom to spend time on the farm and with her family.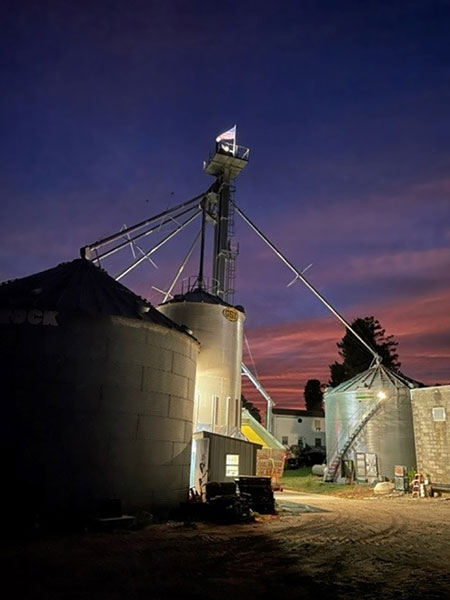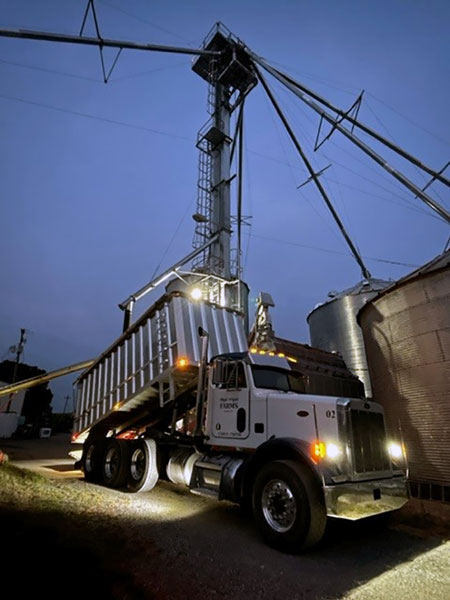 "When I'm on the clock I work from 8 a.m. until 8 a.m. the next day. We usually have two trainings a day and then the calls throughout the day," Schrum said. "I get two days off then. I enjoy the schedule a great deal. I'm away from home for 24 hours, but then I'm home for two solid days. So, two thirds of my life is spent on the farm and a third of it is spent as a firefighter. I feel like I've got the best of both worlds."
As a female firefighter, Schrum isn't oblivious to the fact that she is in the minority. In the United States, just under 12 percent of firefighters are women. In agriculture today, roughly 33 percent of workers are women.
Being a woman in a male dominated field isn't something that she shies away from.
"I'm the only (female firefighter) in our battalion. We are made up of four stations. There are a few other women in the other departments within United Fire and Rescue, but I am the only one in our group. I don't like to be acknowledged that way, because I've had to work harder and had to prove myself a little bit more. I don't have the same upper body strength that a guy does. I have to go to the gym more frequently than what some of the guys do.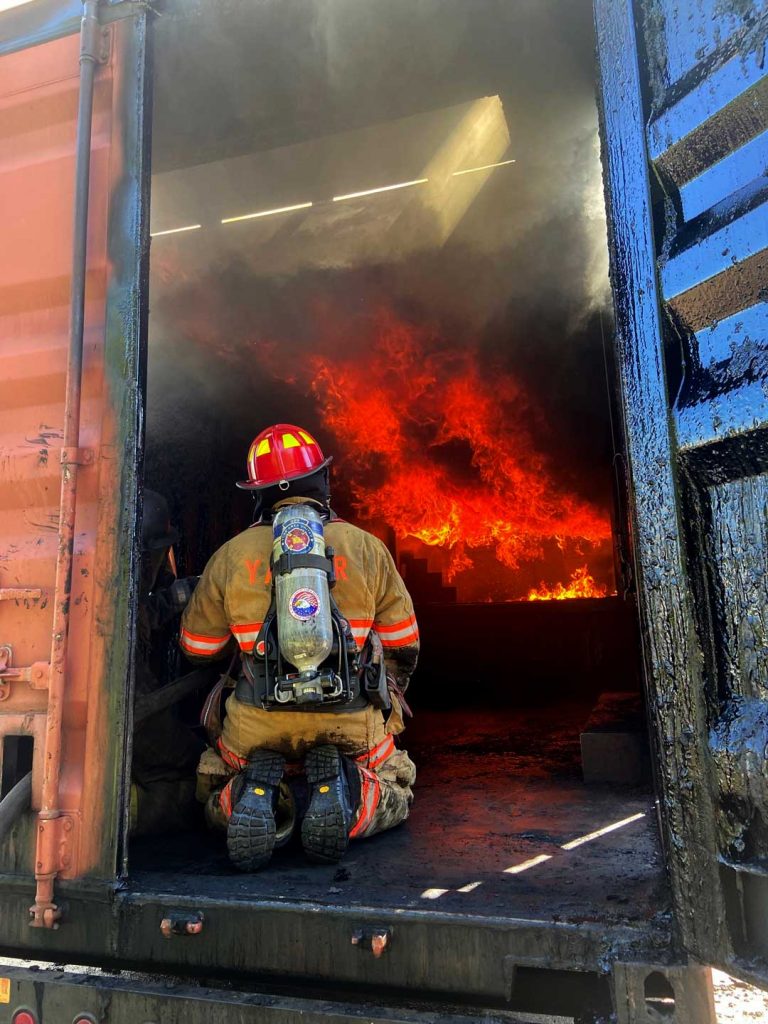 "But there are advantages as well. I might have a bit more compassion than what some of the guys would, or I can get into a tighter space. I might think differently than what they do and be able to see things from a different perspective to mitigate a situation. I don't think it's a negative, and I don't look at it as I should be treated any differently than the rest of them."
The ability to inspire young women to be able to be anything they want has been a rewarding experience.
"It is interesting, because if we are in a parade and we go out to do something at a school, a lot of times you will see parents say something like 'oh wow, it's a woman, or that it's a girl driving.' It's nice to be able to give a student or a child that perspective of, look you can do whatever you want," Schrum said. "It doesn't have to be a male dominated role or a female dominated role, you can do whatever you choose to do – and do it well."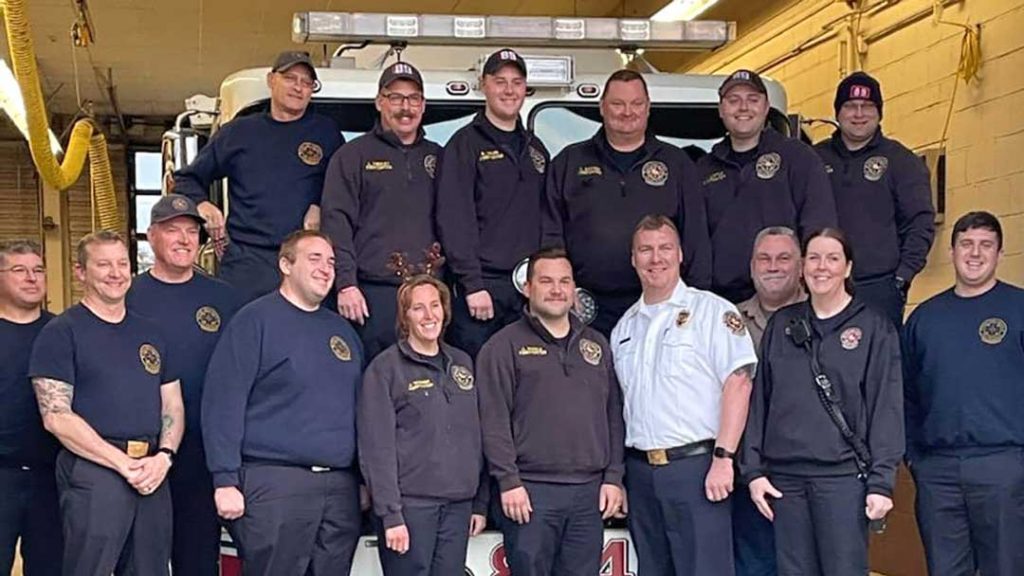 Since returning to the farm, Schrum has balanced her free time reteaching herself about agriculture and training to become an advocate for the field. Schrum recently completed American Farm Bureau Federation's Women's Communications Boot Camp in Washington D.C. and was elected to serve as the District 8 State Board Director for Pennsylvania Farm Bureau. In York County, Schrum serves as the county newsletter editor, which she began in 2019.
"Coming back to the farm and really diving into things is what led me to Farm Bureau," Schrum said. "I felt like I didn't know a lot about ag after 16 years and had a good bit to catch up on. Now I'm constantly trying to learn as much as I can to advocate for farmers and educate people about farming. I feel like there's a correlation between the two career paths that I have, because they are ever changing. I can never stop learning and there's so much more to learn and understand."