Bryn Mawr farmer makes a career out of unique, ornamental gardening
Story and photos by William Whisler
In her more than three decades in the field, Carolyn Walker has become a well-respected and globally known horticulturist.
Among the things that Walker has been most famous for, has been her dedication to shade-loving plants – snowdrops in particular – along with hellebores and hostas. Walker has specialized in perennial flowering plants that thrive without full sun in her two-acre ornamental garden in Bryn Mawr.
Over the years her business has evolved, centered around the interest of the varieties of the snowdrop plants and their popularity among collectors, as well as their unique blooming season.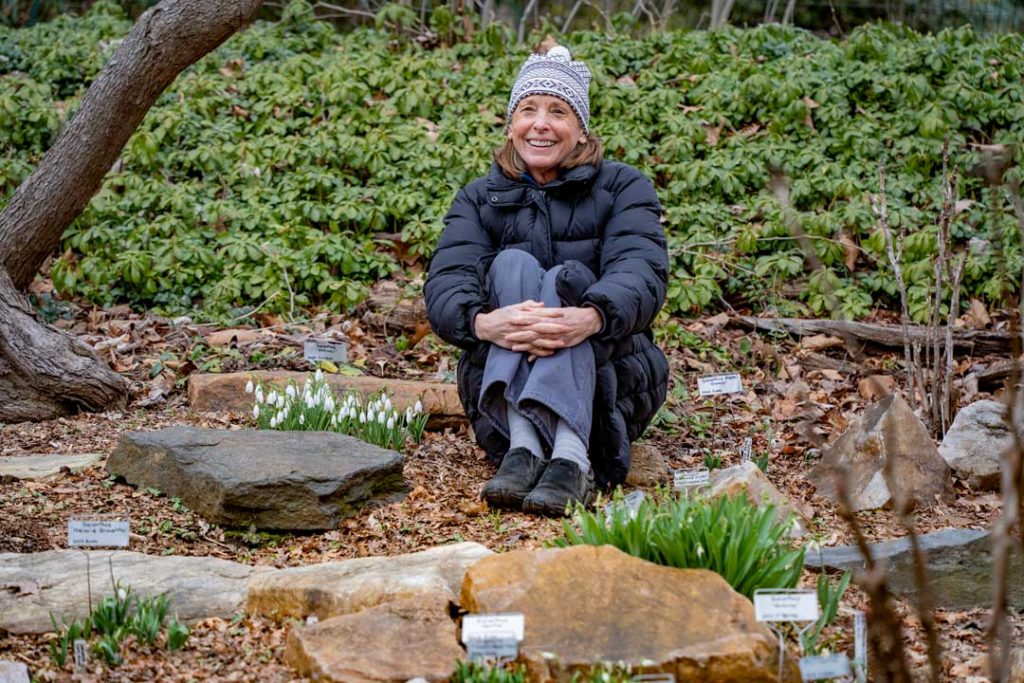 "I've always really been into gardening, starting with house plants in college, and then vegetable gardening – it's really sort of gone on from there. When we moved here from Maine in December of 1983, the following February the snowdrops came up all over the place," Walker said. "They were here. In Pennsylvania these plants were planted, and they would multiply. One of the main attractions to them is that they do come up in February.
"I was interested in them, and I took some courses at Longwood Gardens, and I took a bulb class there. I learned that there wasn't just one kind of species, but that there are about 20 species of them, but there are many, many selections from those species, all with different characteristics," Walker said. "I really started to collect them, but it's really difficult to do that in the United States because they are an endangered species, and they are not native to the US, so you can't just import them the way you would another plant. If you import them from England, there are about three governmental bodies (in England) that you have to stamp, approve and fill out forms for. In the United States, there are a few additional ones with customs, USDA and AHPIS."
Without having easy access to these plants, Walker slowly added to the different types of snowdrops that she has and started a nursery in 1992 that specializes in shade plants. She began to diversify the types of snowdrops after the original plant had grown and multiplied, so that she could offer them to customers while also selling the plants that were originally planted on the property.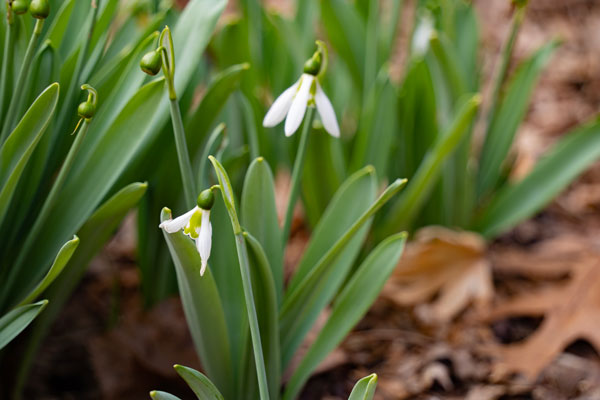 Carolyn's shade gardens sells multiple varieties of snowdrops each year.
"There was a lot of demand for them, but because they would bloom in February and that wasn't really the time that my business was up and running in the past, I would miss selling them," Walker said. "I started coming up with ideas and the best way for me to not miss that was to have a catalog, which I send out by email and people can order them and I can send it out in the winter when they are available."
Working alongside her husband, Michael Drennan, Walker decided to offer her catalog online and after being asked to ship flowers, she decided to test it out. The plants are shipped "in the green," meaning that they are growing plants. They are a complete plant with the roots, the bulb, stem, and flower with all the soil washed off, to avoid passing on any types of diseases.
"In 2009, I sent out my first separate catalog with snowdrops to my local customers and I got a lot of orders. In 2010, I started a blog and a lot of people that weren't in the area wanted to buy them and would ask me to ship them. I did a test run that year and it worked well and people were happy, so I began shipping them in addition to selling them locally."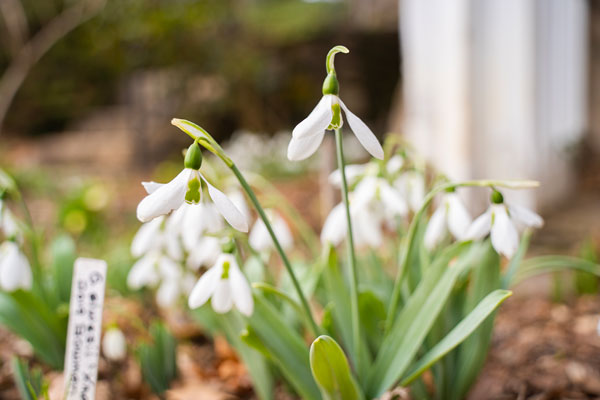 Things took off from there, as Walker hooked up with a bulb place in England – one of which she considers to be the best – and has developed a relationship since they would ship to the United States, opening Walker's business to more and more kinds of snowdrops.
While there are 20 species of snowdrops, there are more than 2,500 different varieties of the plant that have been named. The fancier newer ones are imported, and it can be a difficult process. Snowdrops are not particularly difficult to grow. They require shade in the summer and sun in the winter, although some varieties can be tougher than others to grow.
"I started to get access to more of these unusual types and my business has really been growing," Walker said. "This year, I think that I am shipping to 25 or 27 states. A lot of people in the United States collect them now. They are kind of like a weird esoteric item that people collect. If you really like them, then you want to have a lot more kinds. If you really appreciate them, even though they are small and somewhat inconspicuous, you'll notice all the differences in them."
Along with the varieties, Walker is particularly fascinated in the history behind the different types and names of snowdrops. Some varieties are named strictly based on their appearance, while others are named after the people who discovered them.
Walker recalled the backstory of a particular variety known as Straffan.
"If you know the name of a type of snowdrop you can find out the history of them, who named them first and where they come from," Walker said. "To me, those types of stories are always charming. Straffan is the third oldest known snowdrop in existence. It originated when the fifth Barron in Ireland was fighting in the Crimean War, and he brought them back form the war. The gardener saw this one that looked really different and ended up naming it. It's just really cool to me that you can find this out about the plant. A lot of times they are named after people, and you can find out about the people behind them."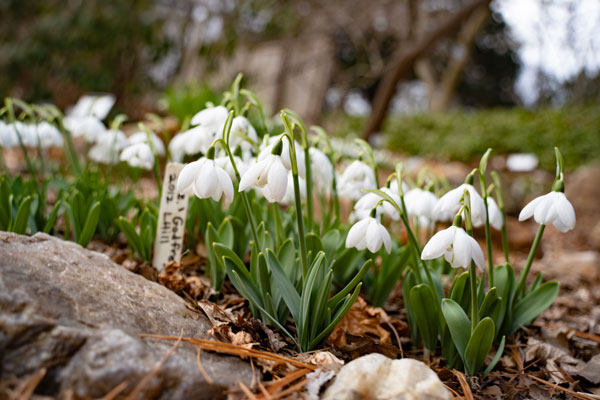 The biggest challenge for Walker each year is having new and different types of snowdrops available for collectors, while keeping up with the demand without any additional employees.
"I think I have about 1,800 snowdrop customers, which is a lot. If you look them up on the internet a lot of times people are driven to my page because I've written so much about them," Walker said. "The people that order from me have to be fast because my catalog is usually sold out pretty much before the end of December. Sometimes within 15 minutes some of the new collectible ones have been sold out. I can also only handle a certain number of orders, in terms of processing them, boxing them up and then mailing them. We don't have any employees. It's just my husband and I in our laundry room shipping them."
Walker also recalled unique experiences meeting different people in England that grow snowdrops.
"You really meet some interesting people when you do stuff with snowdrops. I've been to England on snowdrop business trips, and you get to meet these interesting people who you only read about over here who have named these snowdrops," Walker said. "The first time we went, winter tour used to have a snowdrop event every year. I met a woman, and she had my husband and I over for brunch and they asked us to stay with them. We ended up spending six nights on this 2,500-acre estate. Her husband had been knighted by the queen. That's an extreme example but I've met many people like that."
With the demand of planting different kinds of plants, Walker has always joked with Michael that the snowdrop business is their retirement business.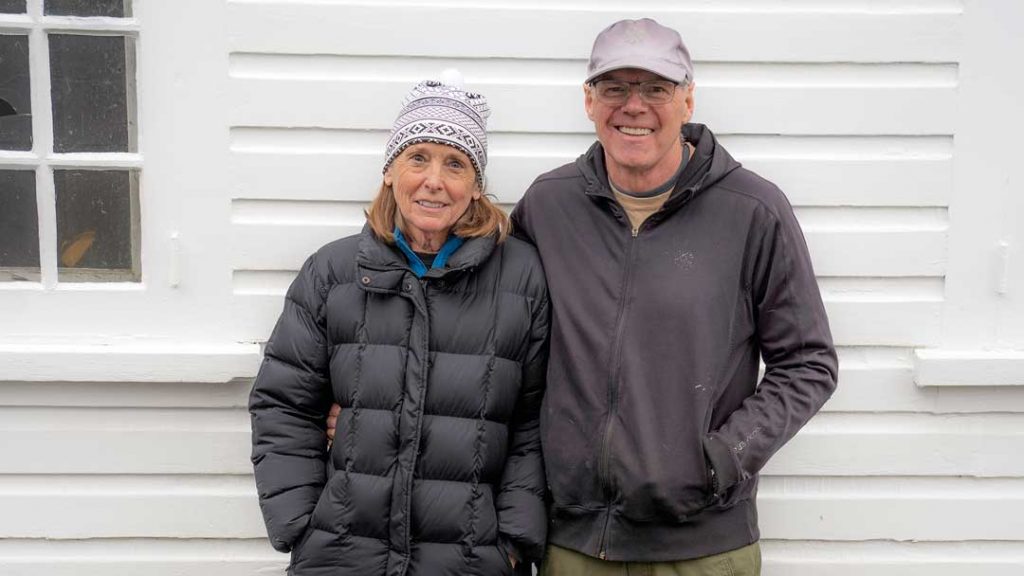 "It would be in the sense that it is really a lot less physical in what we would be doing in terms of what we were doing," Walker said. "When I started, I was growing everything myself and in the ground. Over the years it became something where I was planting and then digging the plant up over and over. I would go to a nursery and pick out individually which plants I would sell to my customers, so my quality was very high. It was just physically challenging.
"The idea is when we can't handle those physical challenges anymore, we will do the snowdrops full time because they are little and light, and they go in little priority mailing boxes. It's labor intensive in a different way."
For Walker, the nursery and her snowdrop business has been a labor of love.
"What originally drew me to them was when they bloomed, but you can also have so many of them in a small space. If you're really into gardening and want to have a lot of ornamental plants, you're going to run out of space no matter how big your property is," Walker said. "So, I like the idea of sort of collecting something that doesn't take up a lot of room, and the fact that they really make you look really closely at them."
Learn more: