Keystone Farm Future Looks to Revolutionize the Local Beef Market
Story by Bill Zeiders
It's no secret that the last few years have been hard to navigate for many livestock farmers. Specifically, those involved in raising cattle have had to face market disruptions stemming from shutdowns at processing plants due to the COVID-19 pandemic, supply chain issues, a lack of available processors, and a host of other market issues that forced some to lose out financially.
Cattle farmers are often subject to the whims of a complicated market landscape, and the current climate has not been a favorable one. Consumers have witnessed the effects of this at the grocery stores, with fluctuating prices and shortages of beef products.
But one company in Pennsylvania is looking to revolutionize the beef market. Keystone Farm Future, led by CEO Larisa Miller, a native of Lebanon County, has partnered with Pennsylvania-based super market Karns Quality Foods to introduce a first-of-its kind program that promises to provide a better way forward for both beef producers and consumers.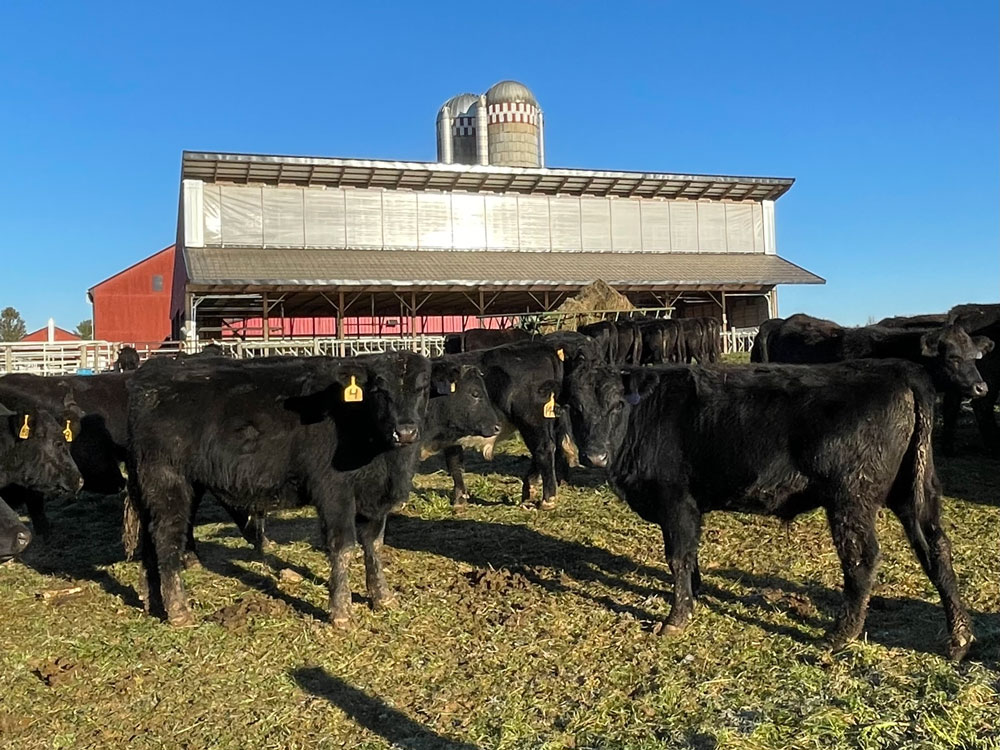 "Two years ago, I started mapping an idea on how to reverse engineer the beef industry," Miller said.
Her plan has been met with overwhelming interest from farmers around the state. The program was announced on December 29th of last year.
"We remove the 'grow and hope' aspect of agriculture," Miller said.
The program changes the dynamic of how the beef industry has operated in the past. Under this plan, Karns owns the herd themselves and contracts the raising of the cattle out to local farmers. This way, the farmers know they will be paid for their work going in, Karns has control of the supply chain themselves, and consumers know that the beef is high-quality and was grown locally. Keystone Farm Future works with the farmers to facilitate what Karns needs.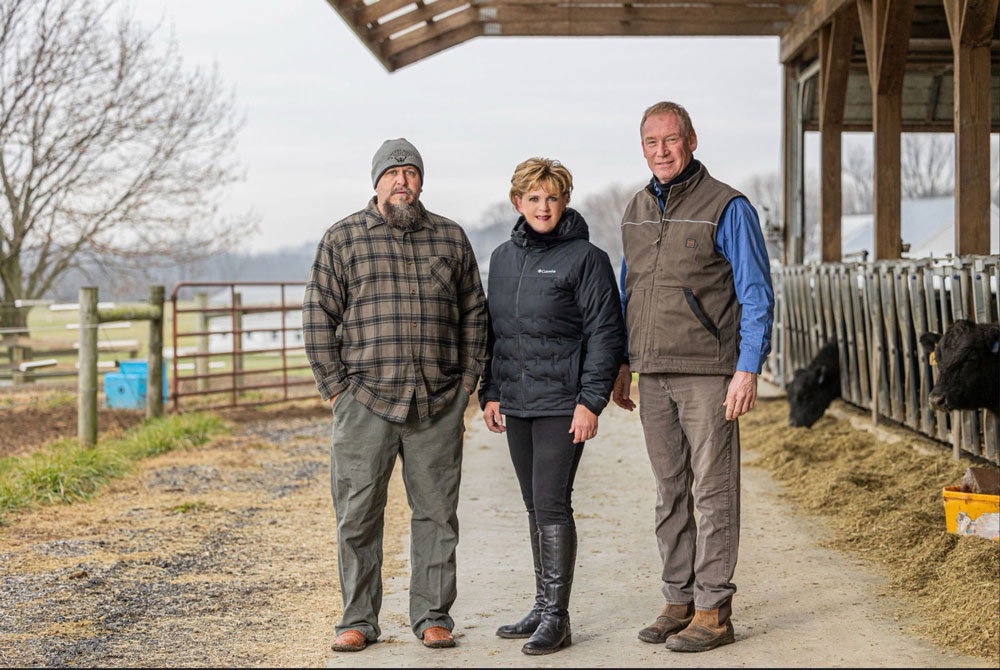 "We have a purchase order with the super market and we know exactly how much beef they need coming into the store every week. We secure the herd around that need. We buy the feeder calves, get RFID tags, veterinary care, nutritional programs," said Miller. "We work with small-to-medium sized processors in Pennsylvania to have the beef processed."
One of the results of the COVID-19 pandemic and the resulting supply-chain issues has been processing availability, and this is another advantage of the program.
"This is a big bottle-neck in the industry, but the processors in Pennsylvania have been so excited and interested in this program that we've been able to find the capacity to do the production right here," she said.
The program has the potential to change the beef industry and offers security to farmers who are looking for better options.
"Farmers are desperate for a new way forward, for something that allows them to have a winning situation and they are not just at the mercy of whatever the price at auction is," Miller said. "This gives the farmer options and it gives them control. We have so many farmers reaching out to us on a daily basis, and we have a waiting list of farmers that would love to get into this program."
The program can be a win for consumers, too.
All of the livestock farmers in the program have to meet a set of standards to be accepted to raise cattle for Karns. This includes having Beef Quality Assurance Certification (BQA), following Keystone's nutritional guidelines – which were created by their own in-house experts – and follow the regulations to become PA Preferred, a state program that promotes locally grown products.
"We've worked very hard over the last few years to make sure that this will be PA Preferred compliant," Miller said. "It is the first beef available in super markets that will be PA Preferred."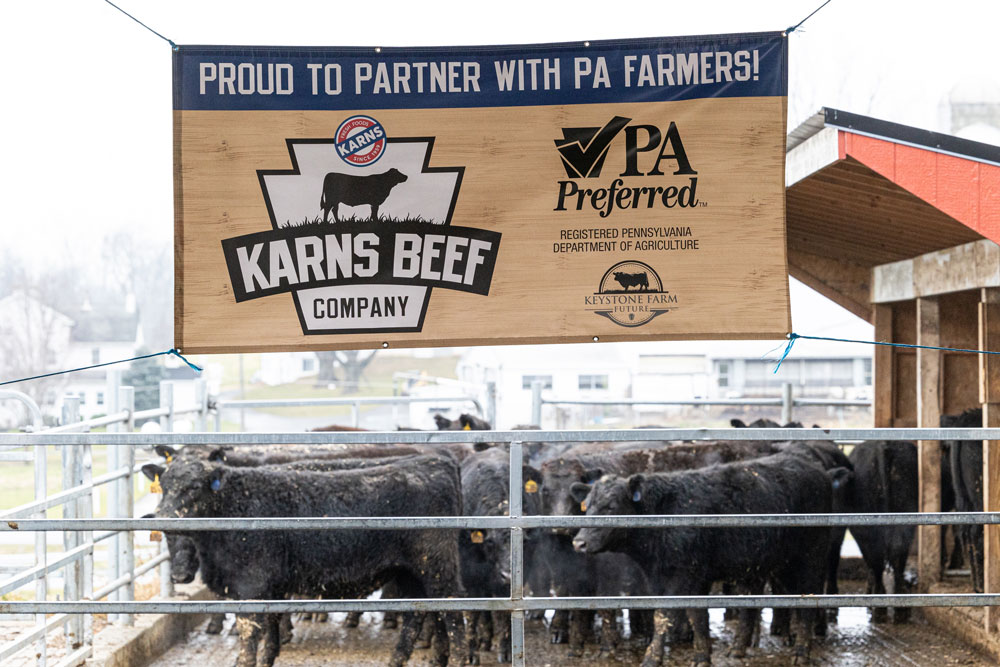 Shoppers will be able to tell that they are getting a high-quality product once the beef begins showing up in stores, planned for some time in May this year. Karns is looking for USDA Choice or better in their beef.
"This is where the marketing falls on the supermarket to really capture the value of having their beef grown locally by farmers that are in the community," Miller said. "It allows us to really be able to spread that message that this beef is not only a true product of the U.S.A. but it's also locally produced right here on Pennsylvania farms."
The program will also lend itself to climate-friendly practices, which Miller
says is a key message to get to consumers. A tight control over the whole supply chain means less time to raise cattle to the target weight, which for the farmer means fewer inputs overall – such as feed and water – and less waste. Since all of the beef will be raised and processed locally, that also means fewer emissions from transportation.
"We in ag, we don't tell the story, so others tell it for us and it's never good. And yet we have so many positive stories that we don't even think about," said Miller. "And this model is a clearly transparent supply chain and that allows the consumer to have that assurance that they really are getting a locally produced, high quality product."
Miller also believes that her company's model can change the face of the beef industry for the better, and it may be able to fix a system that has experienced major setbacks recently.
"If we want to keep the next generation farming we have to find innovative new models and we have to be brave enough to discard our legacy business model and move forward in a new way that will incorporate supply chain security, incorporate sustainability, and that truly allows the consumer to know where their food product is coming from."
Learn More